Stone-Buhr Flour: A Feel Good Agribusiness Story and Model
If there is one thing that I want this blog to stand for, it's the family farmer. Even better, the family farmer who farms sustainably.
So, just when you thought that all U.S. companies were going to hell in a handbasket either because they have become corporate behemoth personal powerhouses with octopus arm suction cups, or else because they are too small to survive, along comes the prototype for the perfect successful agricultural business model from the heart
of Washington State wheat country.
Josh Dorf purchased the 94-year old Seattle-based Stone-Buhr Milling Company from Unilever in 2002 after it had gone through a series of acquisitions. He has since turned Stone-Buhr into a flour company which supports regional family farmers who are using sustainable farming practices to obtain his wheat.
When Dorf purchased Stone-Buhr, he "forged a unique partnership with Shepherd's Grain, a progressive regional group of wheat farmer-owners, to produce Stone-Buhr's sustainable products. The coop is comprised of 33 multi-generational family farmers producing quality wheat on 65,000 acres in an area of Washington, Oregon and Idaho collectively known as the Columbia Plateau."
Besides being a socially responsible business model, this flour company is helping to save the family wheat farm. The Stone-Buhr website informs us that from 1997 to 2007, Idaho lost nearly half of its wheat farms, and Washington State lost over forty percent of its wheat farms. It cites low grain prices and soaring fuel costs as the reason for most wheat farms going out of business. While young farmers have become discouraged from joining the business of wheat farming, Hispanic operators have increased by 50% from 2002-2007, adding diversity to this farming region.
According to one of the Stone-Buhr wheat farmers, Dorf runs this business using his iPhone and no staff through his outsourcing of duties. "He is the new wave in how to run a business. He is smart, funny, a great guy."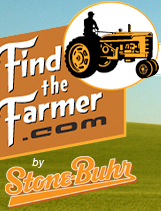 Dorf also founded Find the Farmer, an online method of giving the consumer the ability to see which family farmer(s) raised the wheat for each individual bag of flour purchased by checking a number on the bag's label.
Its logo: Buy American. Buy Local. Buy Sustainable.
Stone-Buhr is certified by Food Alliance based in Portland, Oregon, as a responsible food operation. Food Alliance has set a new standard instead of the national "organic" code, a code which has many shortcomings. It is a 15-year old national nonprofit that provides third-party certification of sustainable agricultural and food handling practices, and is an organizational umbrella for uniting the farmers, the processors, and the retailers.
From the Food Alliance website: "Food Alliance provides comprehensive third-party certification for social and environmental responsibility in agriculture and the food industry. Today, there are more than 320 Food Alliance Certified operations, and over six million acres managed by Food Alliance Certified producers throughout North America."
Another advantage of local businesses is that they are known to offer support to their communties. This year, Stone-Buhr has donated flour to area food banks for each bag of Stone-Buhr flour sold.
In this day and age, for the family farmer to compete with the large-scale efficient farmer, network business models such as this are critical to their survival. Everyone benefits, including the community, the farmer, the consumer, and the environment. Wheat producers in other parts of this nation need to come together like this, using the example set by these successful groups and businesses in our Pacific Northwest. The end result is a sense of community pride.
Next, this Stone-Buhr video tells its story and interviews some of its wheat farmers, who discuss the no till soil retention practices which have improved so greatly in recent years in this region.
Thanks to valued reader Steve, one of the Stone-Buhr Washington wheat farmers, who pointed me towards this story and contributed to this post!
——Kay McDonald
3 Responses to "Stone-Buhr Flour: A Feel Good Agribusiness Story and Model"