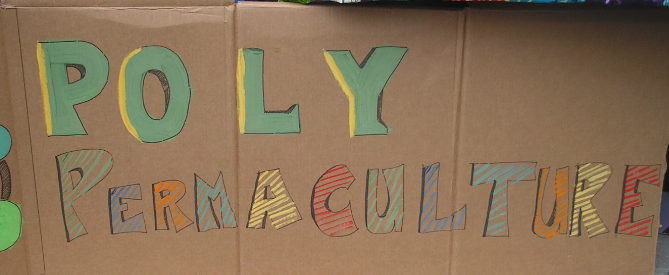 Cal Poly Sign at April 2012 Farmers Market in San Luis Obispo, California
photo credit: Kay McDonald
The migration to this site from Blogspot went fairly smoothly except that the comments didn't migrate from the old posts and there are a few posts that now have illogical URLs. I hope that everyone likes the new look. The move also means that my blogging platform is no longer free, and I thank the generous individuals who, by donating earlier this year, covered the expenses of doing this. Why the move? I attended a regional bloggers meeting recently and 100% of the people in the room advised it. Now, I hope that the technical work on this site has ended for the foreseeable time. Sigh.
As usual, there is a lot of interesting news below. Enjoy.
Kay
● Letter from Goodlatte, Sullivan, Matheson, and Moran to fellow members of congress dated apr 27 2012 starts out:
"The Renewable Fuels Standard (RFS) has been proposed by industry groups and many politicians alike as a renewable and sustainable answer to energy security, climate change and rural development. However, the RFS has failed to solve any of these challenges. The reality is the RFS is a de facto mandate for corn ethanol, which is damaging our economy, driving up food prices, and degrading our natural resources, without achieving the energy independence once promised. The RFS has not achieved any of the solutions the public was promised, it has just created more problems."
(PDF) [The authors are "Bob" Goodlatte is the U.S. Representative for Virginia's 6th congressional district, Republican party; U.S. Representative John Sullivan (OK-1) Republican party; U.S. Representative Jim Matheson (D) Utah's 2nd District; U.S. Representative Jim Moran (VA-8) Democratic party.]
● Game Over for the Climate By James Hansen (NYTs)
Over the next several decades, the Western United States and the semi-arid region from North Dakota to Texas will develop semi-permanent drought, with rain, when it does come, occurring in extreme events with heavy flooding. Economic losses would be incalculable. More and more of the Midwest would be a dust bowl. California's Central Valley could no longer be irrigated. Food prices would rise to unprecedented levels.
● A farmer speaks for two minutes about how to control weeds. This sounds very much like he is a hamster running on a wheel faster and faster. (Farm Industry News)
● Growing numbers of South Koreans are moving back to the countryside and farming… people want to move "to live a life worthy of human dignity" in a country where the average worker puts in 2,200 hours year, the highest in the developed world. (Reuters)
● FDA's Global Engagement by Marion Nestle (Food Politics)
● U.S. completes warmest 12-month period in 117 years (W-P)
● The Climate Fixers – Is there a technological solution to global warming? by Michael Specter (The New Yorker)
● The new WASDE report: Corn production projected at record 14.8 billion bushels (Drovers)
● U.S. Winter-Wheat Output Seen Surging 13% on Favorable Weather (Bloomberg)
● U.S. soybean stockpiles are poised to drop to the lowest relative to consumption since at least 1965 after the worst drought in five decades decimated crops across South America, driving China to buy more from Midwest farmers. (Bloomberg)
● Ethanol Plunges Most in Three Weeks on Ample Supply, Corn Drop (Bloomberg)
● Cattle prices jump (a lot) as ranchers begin rebuilding (AP)
● South Africa: U.S. Agriculture Hosts Food Security Seminar… By 2100 the world's population will exceed ten billion and more than 80% of that population will be resident in Africa and Asia. (AllAfrica)
● Figures gathered by the independent research group Farmsubsidy have indicated that the subsidies, much needed in the struggling Danish agricultural sector, are instead falling into the hands of undeserving parties that have nothing to do with agriculture. (The Copenhagen Post)
● ENERGY: With prices for natural gas so low, and prices for oil-based fuels so high, the idea of building plants to convert natural gas directly into liquid diesel and jet fuel is something more companies are looking into. (Money.CNN)
● The Upside of Frankenfood: Can GM Crops Reduce Global Food Insecurity? by Isobel Coleman (The Atlantic)
● Saving a River, One Farm at a Time by Brian Richter (National Geographic)
● Trees, shrubs vanishing from Sahel – Impoverished region's farmers, livestock consume them to live (Winnipeg Free Press)
● This is a disturbing article which gives us a glimpse of future global problems. Don't miss the part about the Karachi nuclear reactor… Pakistan's climate change challenge (Foreign Policy)
● This story includes a video that I highly recommend if you'd like to see an ancient irrigation system in operation… Israel is being urged to reroute its controversial West Bank barrier away from the lands of an ancient Palestinian village with a unique agricultural system. (BBC)
● This is a good example of the insurmountable economic challenge of attempting to be a small food producer… Small Tofu Operation Has Trouble with Profit Margin – "They can ship the soybeans to Japan, make the tofu, ship it back to the United States and still sell it cheaper than I can," Quick said. "They're all automated." (Chicago Tribune)
● Creating Sustainable Agriculture Without Government Subsidies – An interview with Joel Salatin (Reason.com)
"If I could do one thing and only one thing legislatively for the food system, it would be to create a Constitutional Amendment called the Food Choice Emancipation Proclamation which would guarantee every citizen the inalienable, fundamental right to consume any product of their choice and legalizing the direct unregulated commerce between consenting adults of said product."
~~~~~~~~~~~~~~~~~~~~~~~~~~~~~~~~
CBOT SOYBEAN PRICES CHARTED OVER THE PAST THREE YEARS