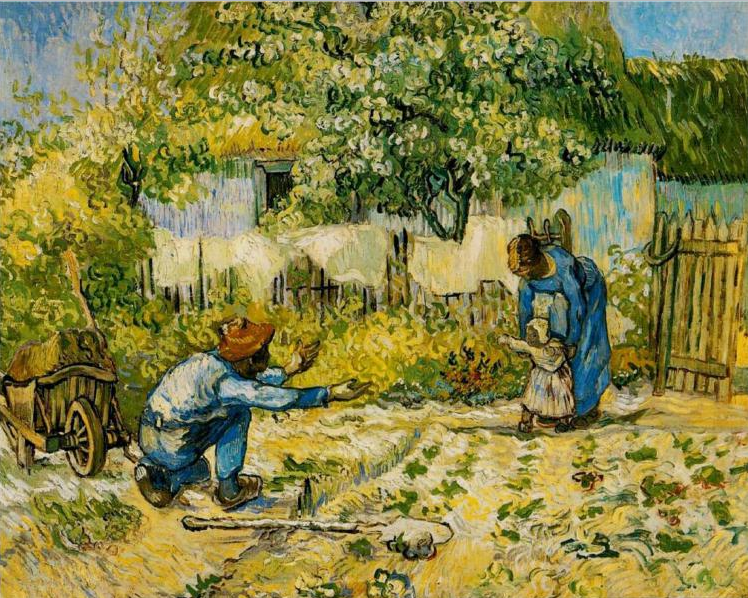 First Steps by Vincent van Gogh 1890
PZMRFC2ACCPP
Happy Mom's Day to all fellow-mothers who might happen to read here. Special days are best when nothing is planned or anticipated, and that helped make today special for me. I was gifted with breakfast at a reverse snob type of place whose motto is "890 square feet surrounded by Boulder," a takeoff of the oft-used phrase "Boulder, twenty-five square miles surrounded by reality" with my family of men. Later in the day I got my hands in the dirt, and nothing makes me happier. Seriously.
Kay
● The DesMoinesRegister writes about repercussions to the Iowa economy if the USDA's prediction of $4.20 corn comes true. But the article goes into much more than that including how the rest of the world is ramping up production, competing with us, and that a global wheat excess crop also competes with corn since it's used as feed. Remember that back in 2008-09 there was much scaremongering in headlines around the world about food supply scarcity being a condition here to stay. Currently, the globe looks to have ample supplies of corn, wheat, rice and cotton. (DesMoinesRegister) Reuters coverage here.
● How Your College Is Selling Out to Big Ag by Tom Philpott which also contains a good chart showing where funding of land grant ag research comes from. (Mother Jones)
Last week, the University of Illinois' College of Agricultural, Consumer and Environmental Sciences (ACES) in Champaign-Urbana made a momentous announcement: it has accepted a $250,000 grant from genetically modified seed/agrichemical giant Monsanto to create an endowed chair for the "Agricultural Communications Program" it runs with the College of Communications.
● Pork exports strong; almost 28 percent of U.S. production (DesMoinesRegister)
● Cotton drops near 2-year low on bumper supplies (CNBC)
● Goose down prices have doubled since 2009. Article includes a video. (WSJ)
● What if It Weren't Called Pink Slime? (NYTs)
● China Ups Fight On Smuggled Sugar (WSJ)
● And yet another Journal Nature study is released to add to the organic vs. industrial Ag debate…. A meta-analysis of agricultural systems shows that organic yields are mostly lower than those from conventional farming, but that organic crops perform well in some contexts. (Nature Journal)
● A fast-spreading plague of "super weeds" taking over U.S. farmland will not be stopped easily, and farmers and government officials need to change existing practices if food production is to be protected, industry experts said on Thursday…. (Reuters)
● The GM debate going on here is quite interesting: Hertfordshire town holds key to rich harvests, claim scientists. So why do activists target it? Harpenden seems an unlikely setting for a battle over global farming. But threats to disrupt tests on GM wheat crops are causing a stir in the town. (Guardian)
● Forget the usual tired debates about Africa, it's changing – for the better. With overseas investment and economic prosperity on the up, and new leaders and entrepreneurs emerging, Africa is rising. (Guardian)
● Amyris, a U.S.-based company that used genetic engineering to develop a technology to convert sugar into biofuel has announced that it will stop producing the fuel, at least temporarily, because the process simply isn't profitable. (Yale 360)
● How to Feed the World While Earth Cooks by David Biello (SciAm)
● Animal cruelty was filmed at a Wyoming hog operation that made the national news this week with a 4-minute video here. (I did not watch it because I'd rather not.)
~~~~~~~~~~~~~~~~~~~~~~~~~~~~~~~~
This is the trailer from the HBO 4-part documentary "The Weight of the Nation" airing recently on HBO:
This is a great concern for us and the world, as we are not the only nation trending fatter. There are now more overweight people in the world than there are food insecure people.