UK 1936 Farm Workers Cottages owned by the Hon G. Vesley, Driffield.
Photo from UK Archives.
So… the resident raccoons ate our first crop of Mara des Bois strawberries last night. Bummer.
I'm throwing up some news tonight before I step away from my desk for a few days. There will be more posts coming however, so no reader break for you weary folks.
Kay
● A friend who was a fan of the Ernest Callenbach book "Ecotopia" sent the following Huff-Post article to me. When Callenbach died at the age of 83 in April, this writing was found on his computer: Epistle to the Ecotopians. Though I never read the book, judging by this essay, it looks to me like this man had the ability to think very clearly.
… With the movement into cities of the U.S. population, and much of the rest of the world's people, we have had a massive de-skilling in how to do practical tasks. … As empires decline, their leaders become increasingly incompetent — petulant, ignorant, gifted only with PR skills of posturing and spinning, and prone to the appointment of loyal idiots to important government positions. Comedy thrives; indeed writers are hardly needed to invent outrageous events. … As the Japanese know, there is much unnoticed beauty in wabi-sabi — the old, the worn, the tumble-down, those things beginning their transformation into something else…
● True confessions here. In our family we've always purchased gas without ethanol if it is available. If you feel powerless politically, you can at least vote with your dollar. Oil companies say E15 ethanol damages engines (Des Moines Register) AND Ethanol concerns bring customers to more costly 'pure' gas stations (Fox News)
● TIAA-CREF is partnering with Canadian and European money managers to form a $2 billion global farmland investing company to capitalize on the growing demand for grains and other agricultural products. (Drovers)
● John Deere is well on its way to a year of outstanding performance after reporting an eighth consecutive quarter of record earnings … Company equipment sales are projected to increase by about 15 percent for fiscal 2012 and by about 25 percent for the third quarter compared with the same periods a year ago. (Marketwatch)
● The current demographic and cultural changes in Midwestern and Southern communities are among the most important transformational events shaping the future of U.S. agriculture and rural America. Migration has been an important source of labor for the U. S. agricultural sector. Today's immigrants, primarily Latino/as, began to move to rural towns in growing numbers in the 1990s, alleviating decades of population decline, and contributing to the economic vigor of rural communities. (Choices)
● ENERGY: I find these quotes by de Margerie quite interesting because I have quoted him many times previously warning the world that we are facing peak oil. He appears to have had a turn-around in his view…. Total's chief executive Christophe de Margerie said new sources of petroleum, such as tight gas and shale oil, meant that the world had ample supplies of petroleum. (Adelaide Now)
● Frequent Floods Force Farmers to Rethink Age-Old Practices (Inside Climate News)
● How the FDA Fails to Regulate Antibiotics in Ethanol Production (IATP)
● Economist Sees Conditions Ripening for New 'Dust Bowl' (AGripulse)
● India loses faith in GM cotton – Ten years after it was introduced to India, genetically modified cotton is not living up to its promise. It is vulnerable to new diseases and yields are not as great as expected. (Guardian)
● From Science Fiction To Fact, Robots Are Coming To A Farm Near You (NPR) includes video of a tractor operating without a driver.
● I personally love to look at photos and a photo such as this one simply makes you stop and think. Large Black and White Photo of a Farmer tilling his field in Afghanistan.
~~~~~~~~~~~~~~~~~~~~~~~~~~~~~~~~
As U.S. honey production dropped 16 percent last year, imports jumped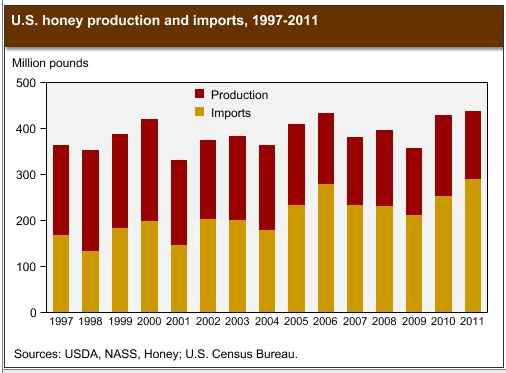 The U.S. honey crop was hampered by drought conditions in the South and heavy rainfall in many northern States in 2011. As a result, domestic honey production dropped 16 percent in 2011 from 2010 as the number of bee colonies fell 7.5 percent and yield per colony declined 9 percent. In total, domestic production fell by 28.1 million pounds of honey, despite record-high average prices received by honey producers in both 2010 and 2011.
The drop in U.S. production, coupled with high domestic honey prices, increased honey imports to 288.3 million pounds in 2011, twice the amount imported a decade ago in 2001. The top three foreign suppliers of natural honey to the United States—Argentina, Vietnam and India—accounted for two-thirds of total U.S. imported honey in 2011. (source: usda)