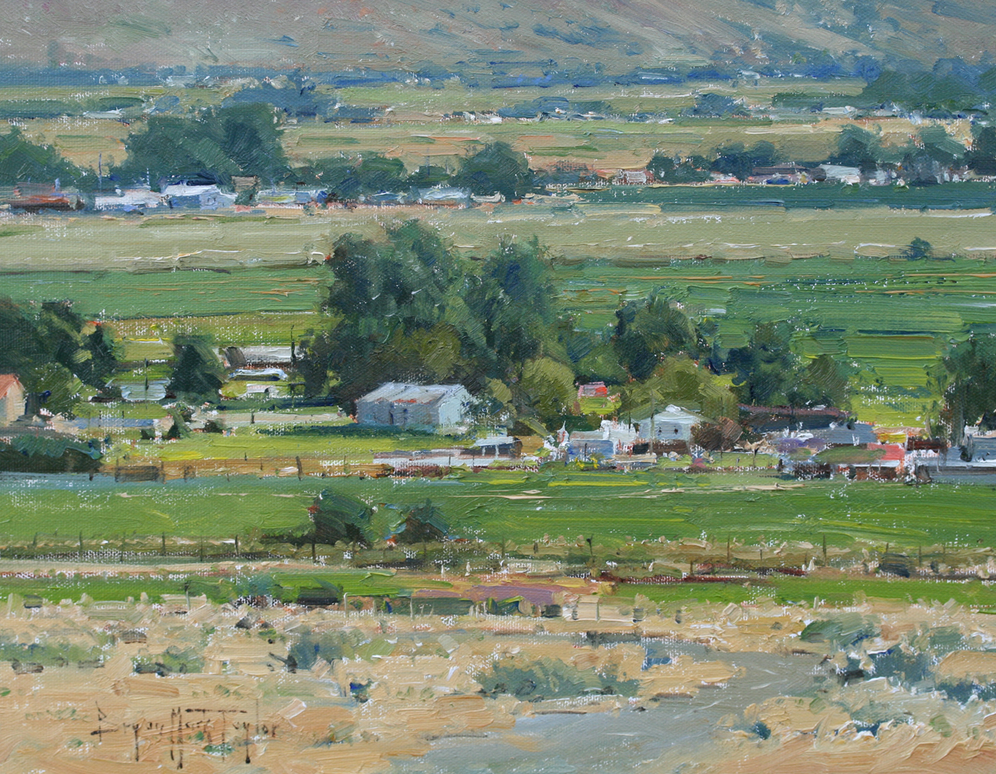 The rural scene above is a plein air painting by California artist Bryan Mark Taylor. He has a beautiful philosophy about art and does many other south central California farm scenes. (Thank you to Bryan for granting permission to feature this painting here.)
……………………………………………………
In spite of all of the dry growing conditions that are being reported from the corn-belt, my family is reporting nearly perfect moisture and conditions in northeast Nebraska so far this season.
It is no surprise to readers here that the FAO reports that global food prices are headed downwards and there are many positive production reports in the current season's news, as well.
Here in Boulder we have smoke in the air from the 37,000 acre High Park wildfire burning West of Fort Collins which began on late Saturday from a lightning strike and has spread rapidly because of recent high winds.
Kay
Next, find my round up of recent Ag news…
● Two scientists are challenging the currently accepted norms of biofuel production. A commentary published today in GCB Bioenergy reveals that calculations of greenhouse gas (GHGs) emissions from bioenergy production are neglecting crucial information that has led to the overestimation of the benefits of biofuels compared to fossil fuels. (Phys.org)
● FAO price index drops sharply. World cereal supplies expected to be abundant in 2012/13. (FAO)
● With forests and fish stocks declining, water demand rising and lack of action on climate change, humanity's path is anything but sustainable, the UN warns. (BBC)
More than 40% of the Earth's land is used for human needs, including cities and farms; and with the population set to grow by a further two billion by 2050, that figure could soon exceed 50%. Rising demand for resource-expensive foods such as beef could mean it happens by 2025, Prof Barnofsky's modelling suggests. "It really will be a new world, biologically, at that point," he said. "I think that if we want to avoid the most unpleasant surprises, we want to stay away from the 50% mark."
● Farmers in Nebraska and Iowa should prepare for drought conditions this summer that could devastate their crops (CBS)
● Robert Rapier analyzes a new report from the DOE about Biofuels showing that biomass pyrolysis for synthetic fuel may become cost competitive with petroleum. Algae continues to look cost prohibitive. (link to the DOE pdf here)
● Much of this deals with biomass and biofuels goals. In New U.S. "Bioeconomy", Industry Trumps Environment. (IPS)
● Military's plan for a "green" future has Congress seeing red (CNN)
● Getting burned by biofuels – Editorial (The Washington Times)
● From "the Oil Drum "Reflection on ASPO 10, Vienna 2012 – Part I":
Biomass for Heat rather than Biofuels – The key point here is that biomass is much more efficient if you use it directly, rather than messing around with it. Simply cutting and drying the wood and converting it to pellets involves a lot less energy inputs than the complex process of trying to convert corn and other biomass into biofuels. Given a limited amount of land that can be used to grow biomass, it does seem more sensible and efficient to replace heating oil with wood pellets than to displace gasoline with ethanol from corn. The logical conclusion is that the amount of land currently growing corn for ethanol production would be better off turned to short rotation forestry.
Or, as my own relatives do back in Nebraska, they have corn stoves in their homes which burn the corn kernels directly to heat the house to supplement their furnases. But heat isn't the same as liquid fuel, is it?
● Airline group says biofuels need govt support (AP)
● New Mexico is set for biodiesel with the soon to open B100 biodiesel terminal in July. Once online, this will be the state's largest biodiesel terminal, which is owned and operated by the Renewable Energy Group (REG), the country's largest biodiesel producer. (Domestic Fuel)
● The California Energy Commission (CEC) has awarded Propel Fuels a $10.1 million grant to install more than 100 Flex Fuel E85 stations over the next four years. This will more than double the number of E85 stations across the state that has nearly one million flex fuel vehicle drivers. (Domestic Fuel)
● So far, 2012 has been the warmest year the United States has ever seen, with the warmest spring and the second-warmest May since record-keeping began in 1895, the U.S. National Oceanic and Atmospheric Administration reported. (Reuters)
● Climate change to warm Canada with increased temperatures of up to 2˚C by 2020 and 4˚C by 2050 (Digital Journal)
● Thawing Arctic Cryosphere Releases Trapped Methane (Red Orbit)
● Debate swirls over impact of speculation – includes quotes by Scott Irwin, friend of this site. (Financial Times)
● Are 'super farms' good for the environment? The NFU says that large-scale, intensive farms can help reduce the environmental impact of farming and increase food security. Is it right? (Guardian)
● The nation's school districts are turning up their noses at "pink slime," the beef product that caused a public uproar earlier this year. … Only three states — Iowa, Nebraska and South Dakota — chose to order beef that may contain the filler. (DesMoines Register)
● Here's an interesting follow-up story to my recent guar Hot 5:
The Halliburton Company said that its North American profit margins this quarter would drop by twice as much as it had been expecting, knocking its stock price down to an eight-month low. … Halliburton has said the guar system can now account for as much as 30 percent of the overall fracking price. (NYTs)
● Agriculture Secretary Tom Vilsack has announced the department is seeking comments on a new microloan program to help small and family operations progress through their start-up years with needed resources, while building capacity, increasing equity, and eventually graduating to commercial credit. (Delta Farm Press)
● Brazil's Mato Grosso state is expected to produce a record second-season corn harvest as crops benefit from late-season rainfall … Second-season production, known as the safrinha, will jump to 11.7 million metric tons from 7 million tons last year. (Bloomberg)
● Renewable energy schemes help boost farmers' profits – Surge in use of wind and solar power is providing secondary income for agriculture sector, in addition to rural tourism (Guardian)
● North Dakota environmental energy horror story: This aligns well with the conclusion to my last article about the environmental degradation we will see as we go after more non-conventional sources of liquid fuel. Oil boom brings wealth and waste to North Dakota
But Keller, a natural resource manager for the Army Corps of Engineers, has seen a more ominous effect of the boom, too: Oil companies are spilling and dumping drilling waste onto the region's land and into its waterways with increasing regularity. … The effects on land can last for years, or even decades. … Last September, for example, a rancher near Williston told the EPA that Brigham Oil and Gas had plowed through the side of a waste pit, sending fluid into the pond his cattle drink from and a nearby creek. When the rancher called Brigham to complain, he said, an employee told him this was "the way they do business.
● Shepherds around the world – in pictures – They used to be an important part of the global economy but with the increase of estates the need for shepherds has declined. However, the tradition does still exist in many parts of the world (Guardian)
● The third consecutive year of record rice production is poised to expand inventories to the most in more than a decade, driving down prices and helping to contain the more than $1 trillion spent on food imports annually. (Bloomberg)
● Nearly 2,000 communities in the United States will be eligible for money to filter atrazine, a popular weedkiller, from their drinking water. (Circle of Blue)
● Groundwater depletion will soon be as important a factor in contributing to sea-level rise as the melting of glaciers other than those in Greenland and Antarctica (National Geographic)
● Farming on the Campus Quad (NYTs)
● Incredible story out of PBS newshour (7 minute video): In El Salvador, Tooth Decay Epidemic Blamed on Junk Food, Lack of Information (PBS Newshour)
● BONUS: The Poor Man's Refrigerator (No Tech Magazine)
~~~~~~~~~~~~~~~~~~~~~~~~~~~~~~~~
Book: Winner Take All: China's Race for Resources and What it Means for the World, by Dambisa Moyo examines a world that is ill-prepared for the commodity supply-demand imbalances we face over the next decade in arable land, water, energy, and minerals.
In 2009 Moyo was named by Time as one of the "100 Most Influential People in the World."