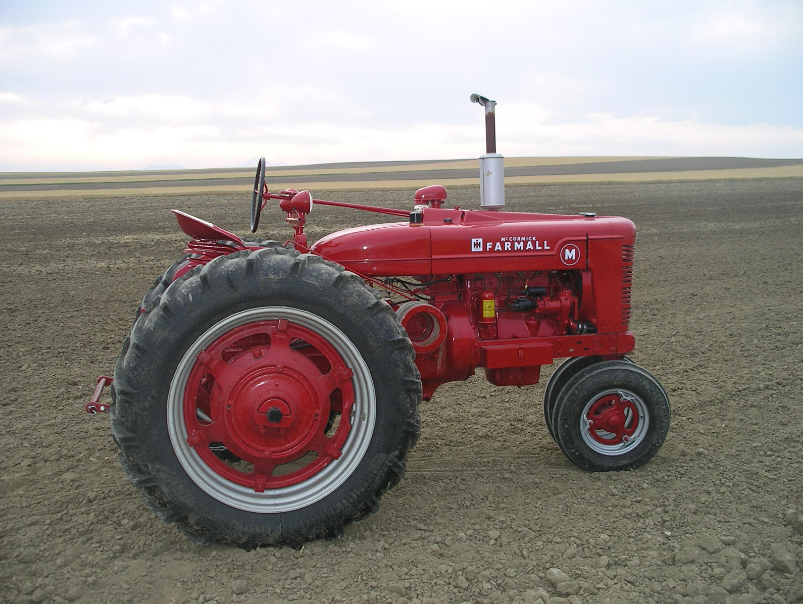 An "M" Farmall on a Boulder County Open Space Farm Tour last week.
There were a slew of good articles on the farm bill this week to start off this week's news . . .
● Crop insurance's need to guard against – guaranteeing profits on marginal land (Policy Pennings)
Would you believe 80 (no, >300!) amendments to the farm bill? (Food Politics)
Far-reaching farm bill stalled (KansasCity Star)
Farm and Food: Bigger boondoggles by Alan Guebert (Journal Star)
Marion Nestle suggests that nobody in Congress can possibly understand more than a small portion of the bill, partly explaining the power of lobbyists. (The Atlantic)
Dem, GOP senators want to weed $23.6 billion in antiquated payments to farmers (CNN)
Farmbill Infographic (Awesome Good)
● This is an excellent Opinion piece from Bob Panzer out of Wisconsin that aligns well with my own views…. Strong returns on grain fuel rise in farmland value (FDL Reporter)
● We already have biofuels demands displacing food and limited bioplastics. The bioplastics industry wants to explode, too. Bioplastics Becomes PET Project for US Consumer Giants (CNBC)
● Last year the biodiesel industry produced 1.1 billion gallons of biodiesel. Bioheat's biodiesel volume potential will grow as the blend level grows. (Farmprogress)
● Agriculture Secretary Tom Vilsack plans to announce Wednesday that North Carolina and New York each will receive about $4 million for farmers growing crops used to produce energy. (Boston Herald)
The North Carolina program will pay farmers for five years to grow miscanthus, a grass that grows up to 12 feet tall, and switchgrass on up to 4,000 acres near Turkey, outside Fayetteville. The crops will be used for the production of bioethanol, chemicals and biogas for power generation at a refinery that Chemtex International plans to build outside Clinton, N.C. … New York farmers will receive a total of $4.28 million to grow shrub willow on 3,500 acres. The wood is expected to generate more than 100 megawatts of electricity. The department also will announce a $1.2 million grant to Arkansas to expand its biomass crop assistance program.
● Crops genetically modified to poison pests can deliver significant environmental benefits, according to a study spanning two decades and 1.5m square kilometres. The benefits extended to non-GM crops in neighbouring fields, researchers found. (Guardian)
● Farmer's Notebook: Using local inputs helps cut cost and also increases yield (The Hindu)
We found out that panchagavya (a combination of milk, ghee, curd, rotten fruits) and farm yard manure made with locally available materials is bet suited for our farmers and encouraged them to use it. Today hundreds of farmers in this region and surrounding areas are using it and experiencing personally its benefits." "I use these inputs for my one acre field and find it useful. More importantly it helps me save some money and also increases yield," says Mrs. Madha Dhanasekaran, another farmer.
● European Union support for biofuel production could force the price of food crop staples up by as much as 36% by the end of the decade, a report has warned. In a report, the charity cited estimates that EU biodiesel use could push oil seed prices up by as much as 20% and vegetable oils 36% by 2020, while EU ethanol consumption could lift maize prices by 22% and sugar by 21%. Already, 66% of vegetable oils from crops grown in the EU are used for biofuels, said the report. Global production of biofuels has increased from 16 billion to 100 billion litres between 2000 and 2010 and is forecast to grow strongly. (Belfast Telegraph)
● Rain, Pests Imperil India's Wheat Crop As Warehouses Full (Bloomberg)
● Spain's barley and soft-wheat production is forecast to plunge 32 percent this year after dry weather hurt the crops (Bloomberg)
● This was interesting after the fact, plus Bloomberg news reported that the Greek government is urging citizens to move to the countryside to farm. Why young rural Greeks are set to embrace Syriza, a Marxist party with a leader that has no experience in government. (BBC)
● Crisis Sows Community Gardens in Spain (IPS)
● Inuits in Northern Canada who used to rely on hunting, fishing and gathering now rely upon imported food (by air). A head of cabbage costs $28 and transport makes up 13% of costs. (BBC)
● British farm jobs for Bulgarian and Romanian workers (BBC)
● Cargill is building a $91 million feed mill in S. Korea. (Black Sea Grain)
● The clean-up begins on China's dirty secret – soil pollution (Guardian)
● Young farmers missing out on fair share in New Zealand (NZ Herald)
● EPA gives final nod to fuel blend containing 15% ethanol (DesMoinesRegister)
● Brazilian farmers win $2 billion judgment against Monsanto – About 85% of Brazil's massive soyabean crop output is produced from genetically engineered seeds. Brazil exports about $24.1 billion worth of soyabeans annually, more than a quarter of its total agri-exports. (QWMagazine)
● Monsanto Co. (MON) corn has been overwhelmed in parts of Illinois by rootworms that hatched a month early, renewing concern that the bugs are becoming immune to the insecticide engineered into the crop. (Bloomberg)
● Monsanto to Invest $355 Million in Argentina Corn-Seed Plant (Fox)
● ENERGY: Apache Corp has made what it believes may be one of the world's largest shale-gas discoveries in a remote corner of northeastern British Columbia, a massive field containing as much as 48 trillion cubic feet of recoverable natural gas. (CNBC)
● Water grab in Kansas oil boom (CNNMoney)
● Adecoagro SA (AGRO), the agricultural company that counts George Soros as its biggest investor, is giving potential buyers the chance to get a hold of farms in Brazil and Argentina at a 36 percent discount to its net assets. (Bloomberg)
~~~~~~~~~~~~~~~~~~~~~~~~~~~~~~~~
5 Reasons to Eat Insects (Nova)