Agriculture News July 30 2012
This week The Colbert Report was on top of this drought story by interviewing Iowa Ag economist Bruce Babcock via satellite. Babcock told Colbert that "I've just been riding my bike through a bunch of corn fields in Iowa and the crop looks like it's a disaster." The two later moved on to the subject of "Obamacare for our corn." I say Ag should be on The Colbert Report and The Daily Show more often as they are missing out on a lot of great material.
Hot temperatures have continued across the corn belt. Springview, Nebraska reached 113 degrees on July 22nd setting a new record. On July 25th, Omaha set a record warm overnight low of 81 degrees. July wasn't dry everywhere as here in Boulder we've received nearly three times our average rainfall at close to 5 inches.
The Chicago Tribune's lede opinion piece today calls for the EPA to waive its requirements for corn-ethanol in motor fuels, after prayer, of course. Kudos.
Below you will find my updated crop condition pie graphs for corn and soybeans using today's newly released numbers.
Kay
Here are my news picks for this week . . .
● NYT's Room-for-Debate "How Can We Prevent Another Dust Bowl?" (NYTs)
● Who are you calling 'rich'? A small farmer shares some hard data. (KETKnbc)
● 3 min video of SD rancher, John Harter, whose property will be crossed by the XL Keystone pipeline, saying that "they have more rights to my property than I do." (W-P)
● Montgomery's neighbors, with the turn of a tap, can still water their grass and wash their cars, thanks to the wells that killed the spring that feeds his acequia. But it's only a matter of time, he told me, until they feel his pain. (HCN)
● Excellent article about the interrelationships between Asian nations over water issues. (Reuters)
● With Corn Prices Rising, Meat Prices Are Likely to Follow. (NYTs)
● Smithfield Foods, Pilgrim's Pride, and Tyson Foods are all looking to Brazil for corn imports. (Blackseagrain)
● Ethanol curbs 'unlikely to win political favour'. (Agrimoney)
● Microbes that convert electricity into methane gas could become an important source of renewable energy, according to scientists from Stanford and Pennsylvania State universities. (Science Daily)
● TED talk by Noah Wilson-Rich: Every city needs healthy honey bees (TED)
● As Americans embrace Ethio­pian cuisine, its farmers grow more teff. (W-P)
● New breed of ranchers shapes a sustainable West – These green cowboys try to marry good stewardship of the land with making money. (CSM)
● According to a recent report by Ventures Middle East, GCC (Cooperation Council for the Arab States of the Gulf) governments have earmarked more than US$100 billion in their water sectors between 2011 and 2016 to improve desalination technologies involving solar energy, and maximise on waste water treatments and recycling. … "Desalination currently provides two-thirds of the water requirements in MENA (Middle East and North Africa), and the new urgency and high priority assigned by governments to investments across the water desalination sector in the region is therefore not a surprise." (bi-me)
● This article provides an update on Jason Bradford's Farmland LP organic farmland investment venture in Oregon and California. Jason has a PhD in Agriculture, is incredibly knowledgeable about sustainable methods, and is a long-time friend of this site. (Post Carbon Institute)
● Center pivots are sprouting in Georgia. (The Augusta Chronicle)
● Politicians fail or do not wish to understand that both food and energy markets are caloric markets. The chairman of Nestle, the world's largest food company, Peter Brabeck-Letmathe, notes, "The only difference is that with the food market you need 2,500 calories per person per day, whereas in the energy market you need 50,000 calories per person." He adds: "Most of the world's sugar production now goes into making biofuels. It takes about 4,600 liters of water to produce one liter of pure ethane oil if it comes from sugar." (Washingtontimes)
● Touchstone algae research project in Ohio names evaporation and unwanted bacterial growth as issues. (Farm & Dairy)
● Algae for biofuel. (Business Insider)
● ENERGY – Webber: Will drought cause the next blackout? (DailyCamera)
● Larry Pope of Smithfield Foods expects meat to go up 10% next year, and the corn yield to be 130 bu/ac. (FT) AND Smithfield Foods Inc. CEO C. Larry Pope received a pay package valued at $13.2 million in fiscal 2012, about 30 percent less than the previous year. (CNBC)
● This is interesting. NOAA central Illinois historical temps.
● New Zealander Stuart Jeannne Bramhall writes about John Jeavons books and more on small-scale productive food growing. (Dissidentvoice)
● 1931′s Remote-Controlled Farm of the Future "If I hadn't found it myself, I'd be extremely skeptical that this illustration was actually from 1931. That flat panel display is just too spot-on." (Reality Zone)
__________________________________________________________
TWO MACRO PICKS
1) Rethinking Macro by R.A. (The Economist)
2) Hoisington Investment Management Second Quarter Outlook on Interest Rates and Over-Indebtedness. Keep in mind that about two years ago Van R. Hoisington and Lacy H. Hunt were advising buying ten year treasuries which were returning almost 4 percent and now they are advising buying 30 year treasury bonds which are returning less than 3 percent. Wow. (Today's 10-year yield is 1.58 percent and the 30-year bond yield is 2.63 percent.)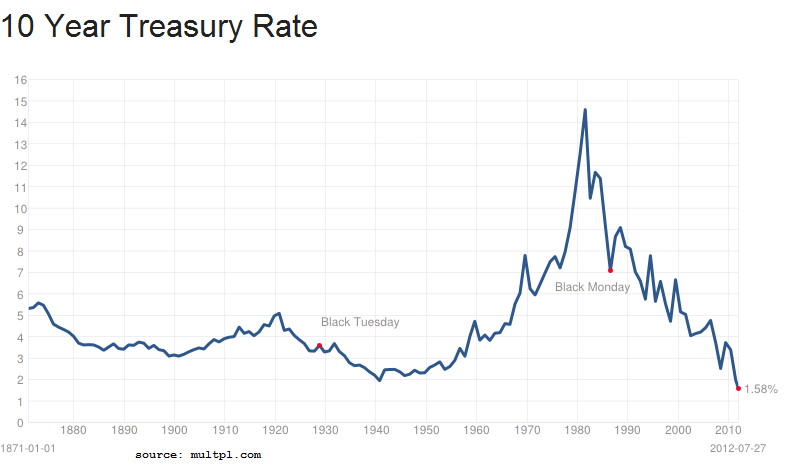 __________________________________________________________
UPDATED CROP CONDITION PIE GRAPHS:
CORN
CORN PRICE (DEC)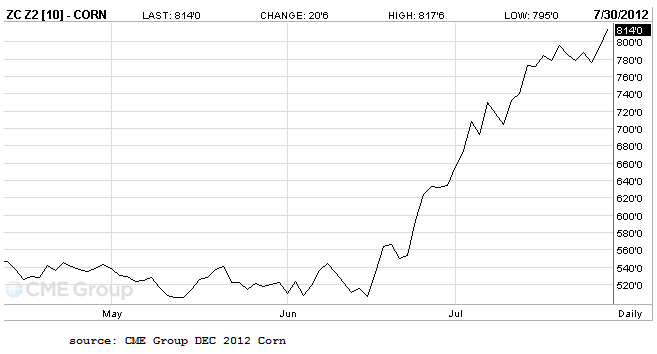 SOYBEANS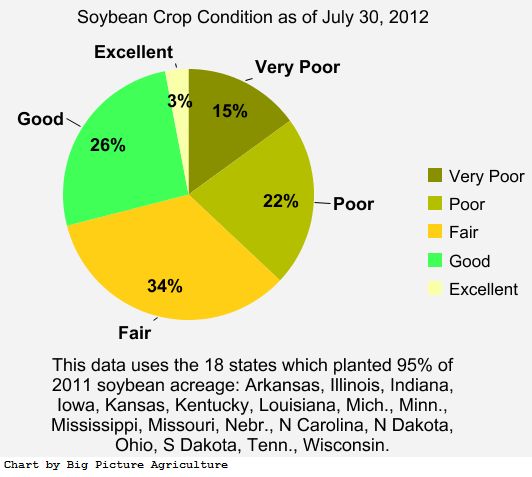 SOYBEAN MEAL PRICE (DEC)

4 Responses to "Agriculture News July 30 2012"