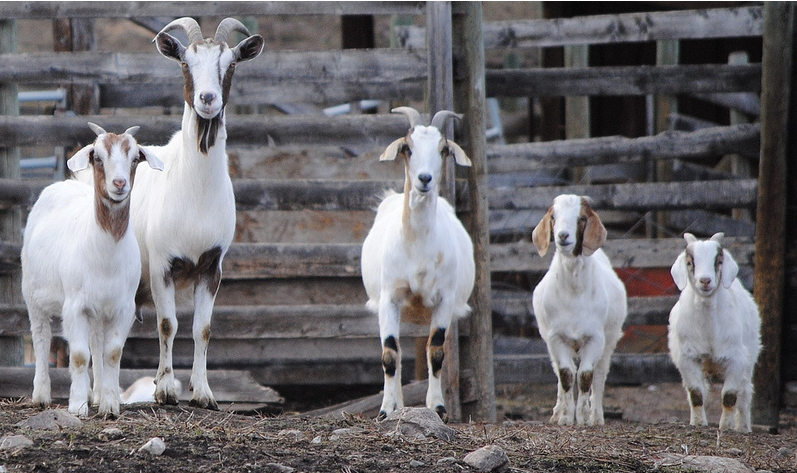 Photo: Flickr CC via bagsgroove
Now, it's possible that Mother Nature will surprise the monoculture cropland country with unexpected rains this next week, and it's possible that such rains could revive crops much more than the current gloomy forecasters expect, but it's also possible that the Midwest is in for a long overdue drought season, and then the question is will policy-makers adjust the ethanol mandate to stave off bad PR related to high food prices, high commodity prices, failing livestock operations, and a sinking U.S. export market? In a week, or two, we'll know more.
Here in Boulder the fire has been out for many days and the monsoon season has started. There have been flood warnings and our own basement is "wet". July rainfall far exceeds June's now.
Kay
Next, is this week's news and it starts out with a Must-Read. Kudos to the DesMoines Register for the story.
● Basu: Is help from corporate agriculture beneficial? AgriSol deal would have benefited American investors at Tanzanians expense (DesMoinesRegister)
Members of the Des Moines Occupy movement announced plans to protest the World Food Prize events this fall. Instead of "pro-corporate agribusiness recipients who support GMO crops and the use of harmful pesticides and chemicals," the prize should honor people "who advocate sustainable, safe, local agriculture in the U.S. and abroad," the group said in a statement. … corporate agribusiness has gone beyond controlling food supplies to also controlling "governments, laws, and patents. …"
● Grinding Energy Shortage Takes Toll on India's Growth (WSJ)
● As Farms Bite the Dust, "Megadrought" May Be the New Normal in the Southwest – My current perch in Placitas, New Mexico feels like a front-row seat to the apocalypse. (Alternet)
● In pictures: Rainforests to palm oil (Mongabay)
● U.S. soybean futures surged to an all-time high price and corn rose due to fears that continued dry conditions in the U.S. Midwest crop belt would further threaten yields. Sizzling temperatures abated in the Corn Belt over the weekend, but rains this week were expected to miss the areas that need it most. (Reuters)
● How the 1950s Drought Changed Texas Agriculture Forever (NPR)
● Texas Seeks New Water Supplies Amid Drought (NPR)
● Last summer, during the height of the drought, West Texas farmers kept watering their cotton crops despite knowing they wouldn't grow. They needed to do so to qualify for federal crop insurance. … Some farmers using advanced watering technologies, like drip irrigation, did produce cotton on irrigated land, sometimes with record yields. (TexasTribune)
● Corn and wheat prices may be trading close to ten-month highs but contrary to public opinion many farmers are not reaping fat profits. The stark reality is that growers' margins are razor thin and many are even losing money because food crops are priced well-below the cost of production, former Australian farmer Paul Hickey explains. (CNBC)
● Delayed Rains Strain India Economy – Unusual Monsoon Season Threatens Vital Crops in Parts of the Agricultural Northern States, Aggravates Power Shortages (WSJ) Please note that the "Weather Maps" tab above includes an India drought map.
● Getting Crops Ready for a Warmer Tomorrow (WSJ)
● In times like these, a Nebraska farmer can be really grateful for his center pivot — and for the Ogallala Aquifer that feeds it. … About two-thirds of the state's corn crop is irrigated. (Omaha W-H)
● The drought in Arkansas with agriculture there "in crisis mode" (Couriernews)
● The historic Texas drought caused the Ogallala Aquifer to experience its largest decline in 25 years across a large swath of the Texas Panhandle, new numbers from a water district show. The 16-county High Plains Underground Water Conservation District reported this week that its monitoring wells showed an average decline last year of 2.56 feet — the third-largest in the district's 61-year history, and three times the average rate over the past decade. (Texastribune)
● "Oil palm is such a lucrative crop that there is almost no way to stop it," says William Laurance, a forest-conservation scientist at James Cook University in Cairns, Australia. Indonesia, the world's largest grower of oil palms (see 'Palm sprouts'), is expected to double production by 2030. (Nature)
● In fall 2013, Perdue will open a new soybean processing plant, the culmination of two years of work. The Lancaster County, Pa., plant is being spearheaded by the poultry giant's agribusiness division, which focuses on procuring and distributing grains. (Delmarvanow)
● The Pentagon is pushing ahead with a $420 million effort to build refineries to make competitively priced biofuels, despite anger in Congress over the price the Navy paid for alternative fuel to test a carrier strike group this month. (Reuters)
● Chris Clayton writes about the important subject of bulk shipping. Dredging Up the Potential of a Post-Panamax World (DTNprogressivefarmer) Post-Panamax vessels make up 16% of the world's container fleet, but account for 45% of the fleet's capacity. By 2030, those largest vessels will make up 62% of capacity. And more on the shipping subject from Reuters: The Baltic capesize Index has fallen by two-thirds in the past 3 months to its lowest in more than 2 years. Rates for supramax vessels were faring slightly better, though the Baltic's supramax index has dropped by a quarter in the last 3 weeks.
● India, the world's second-biggest wheat producer, risks losing more than 6 million metric tons of grain to rain and pests as the country lacks warehouses to stockpile crops that have risen to records for six years. (Bloomberg)
● In Syria, food prices have tripled in parts of seven provinces where the livelihoods of farmers and livestock herders are at risk of collapse because the wheat harvest is being delayed by a shortage of diesel, needed for machinery. (World Food Programme)
● Agri Machinery Expo in the Philippines – The DA figures show that only 0.52 horsepower is used per hectare in the Philippines. On the other hand, progressive countries like Japan and Korea have high power inputs of 7hp and 4.11 hp per hectare, respectively. (MB.com)
● Americans Are Eating More And More Chicken The USDA predicts that Americans will consume 1.7 percent more poultry next year (82 pounds per person) and decrease red meat consumption by 2.2 percent (54.5 pounds per person). (Business Insider)
● World Agricultural Equipment Market, Agricultural Machinery Demand to Rise 6.7% Annually Through 2016 (RedOrbit)
● Fish and Soybean Farmers to Shake Hands? (Triple Pundit)
● Who Needs a WeedWacker When You Can Use a Scythe? (WSJ)
● Chinese farmer walks 5,000 ducks to a nearby pond with video. (BBC)
~~~~~~~~~~~~~~~~~~~~~~~~~~~~~~~~
This chart shows that first time ever, the EIA Monthly coal- and natural gas-fired generation is equal (in April 2012)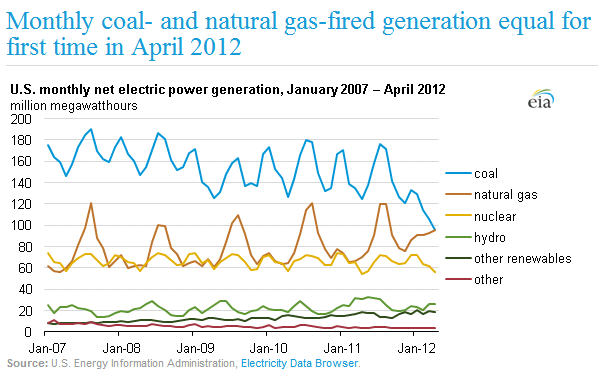 ● Recently published electric power data show that, for the first time since EIA began collecting the data, generation from natural gas-fired plants is virtually equal to generation from coal-fired plants, with each fuel providing 32% of total generation.
● There are strong seasonal trends in the overall demand for electric power. In April 2012, demand was low due to the mild spring weather. Also in April, natural gas prices as delivered to power plants were at a ten-year low.
● With warmer summer weather and increased electric demand for air conditioning, demand will increase, requiring increased output from both coal- and natural gas-fired generators.
~~~~~~~~~~~~~~~~~~~~~~~~~~~~~~~~
Port Near Shanghai China Receives Large Grain Imports
This short video shows the soybean processing facility near Shanghai which became operational in 2009. Two panamax ships can be unloaded at the same time at this port which receives 30 shipments a year of corn and soybeans. This serves as a great example of how agricultural trade with China is changing and necessary infrastructure is advancing. Closest port providing soybeans to Shanghai? Pacific Northwest.
~~~~~~~~~~~~~~~~~~~~~~~~~~~~~~~~
FAO Food Price Index Fell for the 3rd Consecutive Month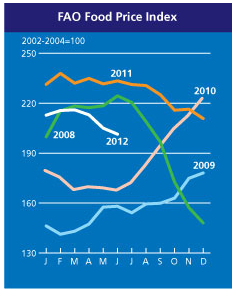 The FAO Food Price Index (FFPI) headed down another 1.8 percent from May and is the lowest since September 2010. After the third consecutive month of decline, the June value of the FFPI is 15.4 percent below the peak reached in February 2011.