As you see in the price chart above, the price of wheat rose more than 50 percent from mid-June until its peak in mid-July. By now everyone knows that the global corn and soybean market was greatly affected by our Midwestern drought. The spring wheat crop was good, however, and even though the U.S. produces only 10 percent of the world's wheat, it is the largest wheat exporter. It was reassuring that throughout this drought season, we knew that global wheat and rice stocks were very ample and much above the levels of the food crisis year 2007/08. So, why did the price of wheat go up so much even though global wheat stocks were 42 percent higher than in 2007/08? In part, it looks like it over-reacted.
One reason was poor weather in some of the other wheat exporting nations. There was too much rain in some of Europe and a lack of rain in Russia, the Ukraine, and Kazakhstan. Russia is the world's third largest wheat exporter and its yields fell 31 percent from last year, according to CME group. (Why hasn't Paul Krugman chimed in this time, or has he noticed? Fact is, there are frequent droughts in this region.) Some expect Russia's available wheat for export will be gone by the end of the year, as producers there have been exporting rapidly in case export restrictions are instated. Spain's production was down 30 percent due to drought. There is some worry about the next growing season, too. There are dry conditions in Western Australia, the world's second largest wheat exporter after North America. There are also dry soil conditions in the hard red winter wheat growing region in the U.S., lessened, however, by very recent rains.
Another reason for high wheat prices is the increased demand for wheat as a feed substitute because of high corn and soybean prices. But that has its limits. According to Dan O'Brien of Kansas State, "Historically, the ratio of wheat-to-corn prices have been in the range of 110-115% – a level that has typically discouraged wheat feeding." Instead, livestock just get culled. The amount of wheat used for feed globally varies from nation to nation, depending upon internal grain supply balances and other factors.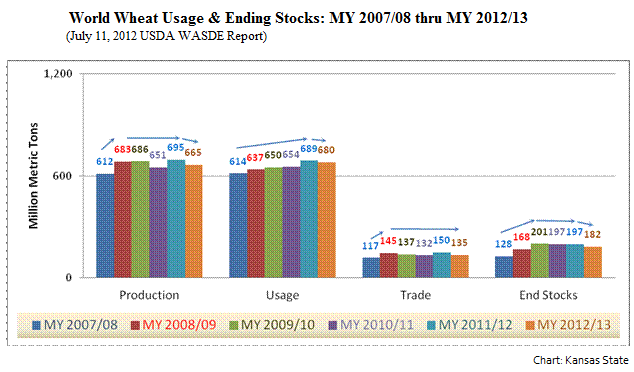 The useful graphic above (using July USDA data) shows us that wheat stocks are well above their levels in 2007/08.
The global stocks-to-use ratio (the supply demand balance measurement) for wheat is at an adequate 25.6 percent, down from 27.9 percent last year. The U.S. stocks-to-use ratio is at 28.6 percent, a four-year low. In food crisis year 2007/08, the global wheat stocks-to-use was at 22.6% according the the FAO, the tightest since the early 1970's. Projected 2012/13 world ending stocks are almost 50 million tons higher than in 2007/08.
China, the top wheat-producing country, had problems with wheat fungi, pests, and heat this season, reducing output to a reported seven-year low. China's wheat imports are up sharply from a year ago.
In spite of the reduced monsoon season in India this year, India's grainaries are overflowing with wheat and rice stocks, and unfortunately some of that will go to waste. India is the world's second largest wheat producer. Though the USDA reports a strong wheat crop in India this season, wheat spot market prices in India are going up due to government exporting without releasing into the local market.
The top wheat exporters are the U.S., Russia, Canada, Australia and the Ukraine. The top wheat importers are Egypt, Iran, Brazil, Algeria, and Japan. (2009 data)
World wheat trade is strong, given its increased use as feed this year. Even so, the U.S. wheat export market is sluggish because of high domestic prices caused by the high domestic corn price. U.S. wheat exports were down 16 percent from last year in June and July. As of August 2, 2012 outstanding 2012/13 sales of U.S. wheat were down 7 percent compared with the same week the year prior. Additionally, wheat imports are projected slightly upwards in the U.S.