The USDA crop report has been released. This one is the first this year to include thousands of national field surveys. Both the lack of rainfall and excessive heat have greatly diminished production, even in irrigated areas. The last three monthly corn yield estimates from the USDA have gone from 166 bushels per acre to 146 bushels per acre to today's 123.4 bushels per acre. Last year 2011/12 the average corn yield per acre was 147.2.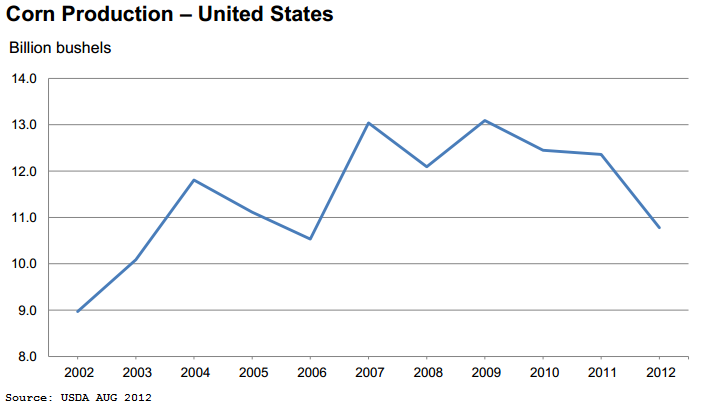 So much for our Secretary of Agriculture Vilsack's July 18th White House speech statement, "Despite the drought, corn farmers are on track to having the third best corn crop in U.S. history." According to today's report the 2012/13 corn yield is the lowest since 1995/96 though acreage has increased in response to rising corn prices.
Here is today's report:
Corn Production Down 13 Percent from 2011.
Soybean Production Down 12 Percent from 2011.
Cotton Production Up 13 Percent from 2011.
Winter Wheat Production Up 1 Percent from July Forecast.
Corn production is forecast at 10.8 billion bushels, down 13 percent from 2011 and the lowest production since 2006. Based on conditions as of August 1, yields are expected to average 123.4 bushels per acre, down 23.8 bushels from 2011. If realized, this will be the lowest average yield since 1995. Area harvested for grain is forecast at 87.4 million acres, down 2 percent from the June forecast but up 4 percent from 2011.
Soybean production is forecast at 2.69 billion bushels, down 12 percent from last year. Based on August 1 conditions, yields are expected to average 36.1 bushels per acre, down 5.4 bushels from last year. If realized, the average yield will be the lowest since 2003. Area for harvest is forecast at 74.6 million acres, down 1 percent from June but up 1 percent from 2011.


All cotton production is forecast at 17.7 million 480-pound bales, up 13 percent from last year. Yield is expected to average 784 pounds per harvested acre, down 6 pounds from last year. Upland cotton production is forecast at 17.0 million 480-pound bales, up 15 percent from 2011. Pima cotton production, forecast at 663,000 bales, is down 22 percent from last year. Producers expect to harvest 10.8 million acres of all cotton, up 14 percent from 2011. This harvested total includes 10.6 million acres of Upland cotton and 233,400 acres of Pima cotton.


All wheat production, at 2.27 billion bushels, is up 2 percent from the July forecast and up 13 percent from 2011. Based on August 1 conditions, the United States yield is forecast at 46.5 bushels per acre, up 0.9 bushel from last month and up 2.8 bushels from last year.


The President meets with his Rural Council to discuss drought response. August 7, 2012.

Since the U.S. is the world's grain exporting powerhouse, this severe drought is and will continue to affect food prices across the world. This week, the FAO Food Price Index climbed 6 percent after three months of decline, mainly due to grains and sugar. Corn prices rose 23 percent in July, and wheat 19 percent. Wheat stocks remain 42 percent larger than in 2008. Rice remained stable. The index is still below the February 2011 level.


Source: FAO

Yesterday, the United Nations urged President Obama to slash mandated corn ethanol production, known to be a political project. More than 45 percent of this year's U.S. corn crop would be necessary to fulfill our 2012 mandate, discounting RINS credits and ethanol in storage.