The Home Garden
The garden looked really nice when I walked out back yesterday morning so I took some photos. We are entering the best season now as thankfully temps have moderated and "whew" we've survived a terribly hot summer in the U.S.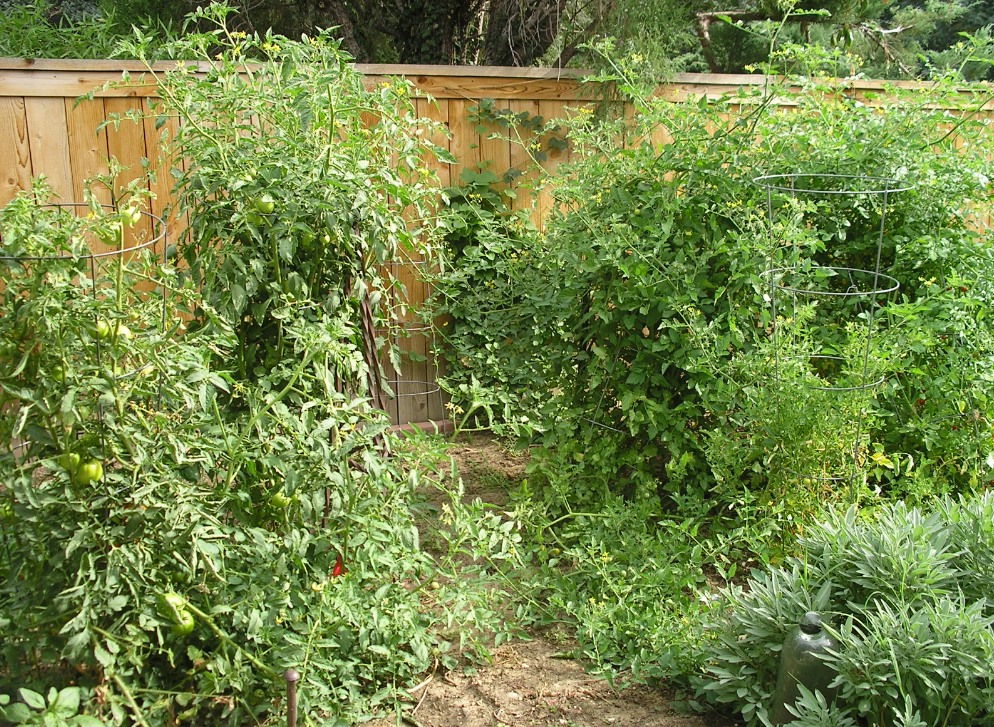 Above is part of the tomato patch, a few peppers in the foreground and a sage "on steroids" to the lower right. The tomato plants didn't set real well during the heat earlier in the summer but they look above average at this point and are finally ripening. We plant mostly cherry sized sweet varieties for use in pastas and pizzas since they ripen earlier in Colorado's climate.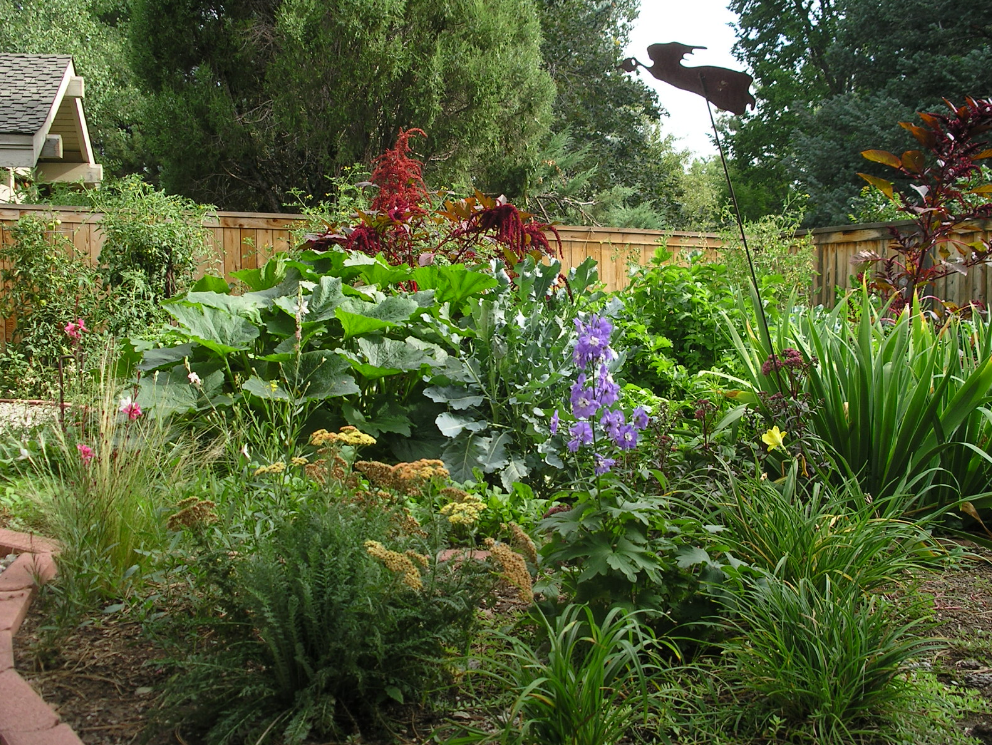 This view shows a few ornamentals in front and in the background you can see zucchini, (red) amaranth from seed (thank you Barbara), sweet basil, broccoli, parsnips, and tomatoes.
Our son started hops in several places along the fence. Recently degreed in architecture with no job opportunities, he works as a brewer in a restaurant in the mountains and loves to experiment with his own craft brews. Last year he foraged for hops as they are growing along a bike trail here. These vines start small the first year but watch out two years from now. Hops need a 20-foot trellis. Here is where I might add that in the recent controversy about parenting styles, I'll go with the camp that thinks kids learn most by watching what you do and that's the part that stays with them. Both of our sons love plants and gardening now that they are older.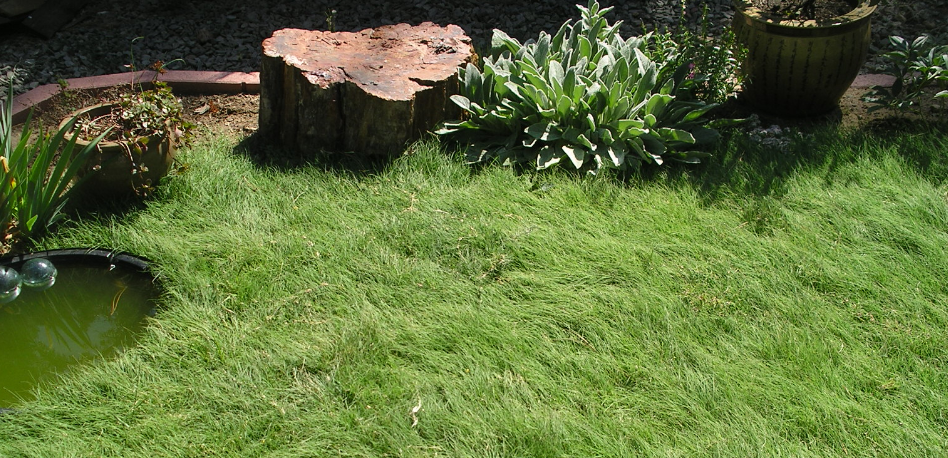 We had to cut down a large pine tree to maximize solar PV gain on the roof, which opened up an opportunity to grow a small patch of grass in the midst of a sea of xeriscape rock. I ordered buffalo grass from High Country Gardens out of SantaFe and it was shipped as plugs in a box from Nebraska. I'm extremely pleased with the choice as it only needs cut about twice a year, and rarely needs watered. It is a nice low maintenance warm season grass that should be used much more often.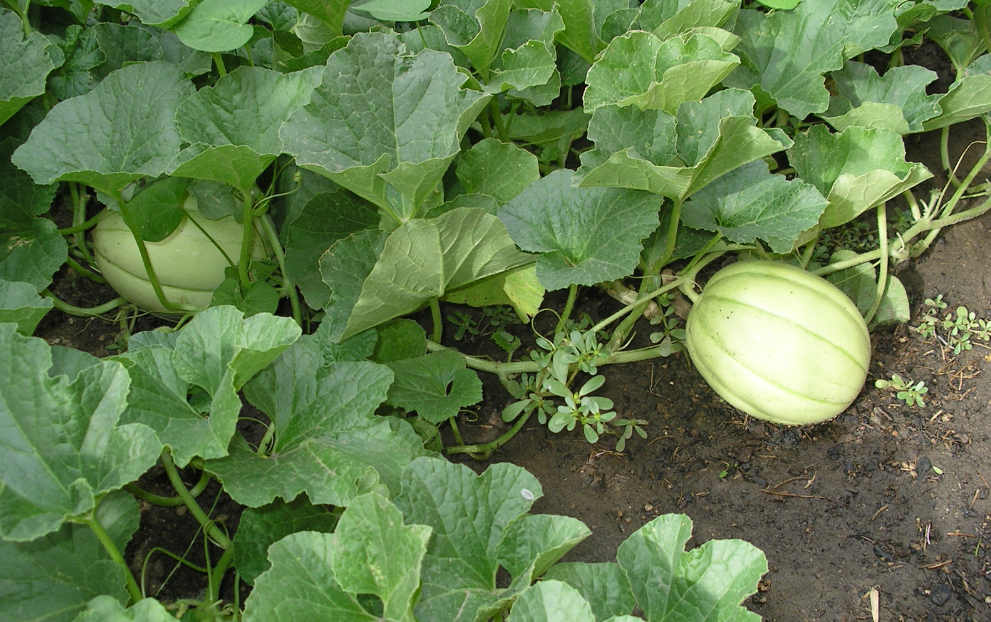 The melons aren't ripe, yet, but are a good Colorado crop. This is a Swan heritage variety. The seed source is Abbondanza farm in our county.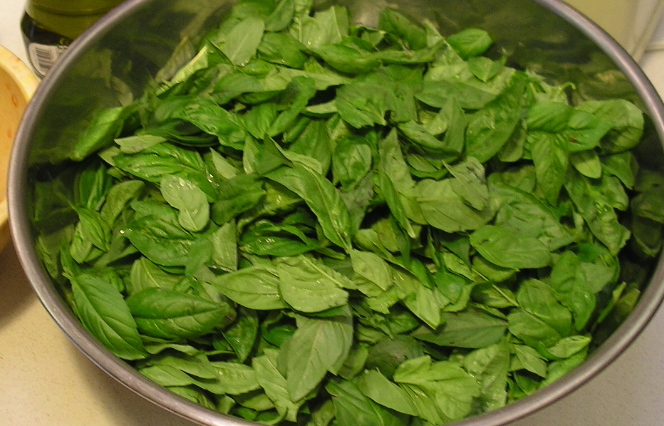 This very large bowl contains one day's basil harvest from a few weeks back. I'm lucky that my husband loves to cook — and make pesto. I can't take credit for much of the vegetable garden, as he does most of it. I love to garden, too, but I like design and the ornamentals.
Lavosh with fresh basil.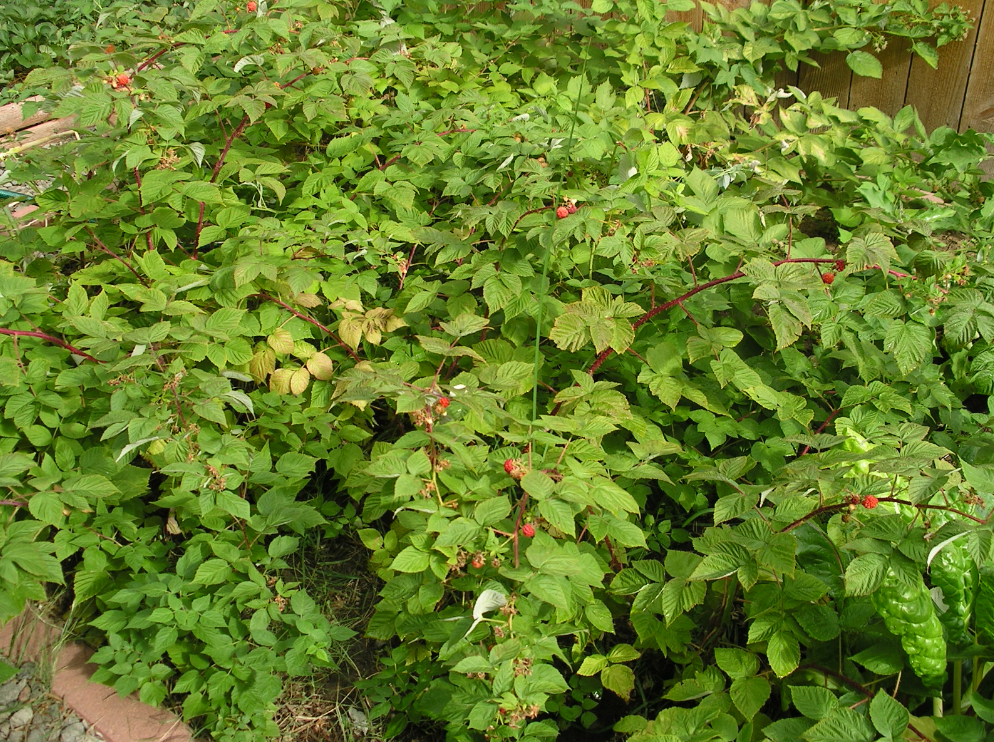 This raspberry patch was just started last year. It has produced nicely already. I'm afraid shoots will be escaping the boundaries soon. This spring we added our first two fruit trees to the property, an apple and a tart cherry. If my husband had his way he'd cover the entire front yard with fruit trees. Instead, he forages for ripe fruit on walks.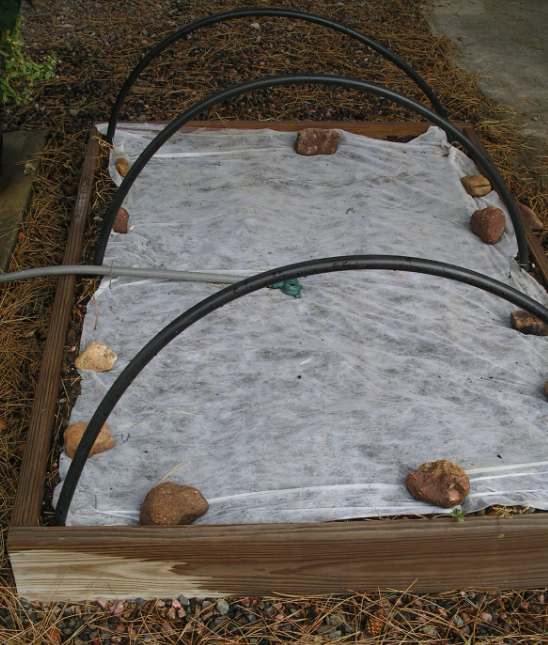 This is the 4′x6′ winter garden bed which gets seeded in January and provides greens beginning in April and lasting through June. By planting spinach, lettuces and arugula seeds now, we can also get a fall greens harvest in October/November. The fabric covering the soil is spun polyester garden fabric. In winter, plastic will cover the hoops, too. This garden sits underneath a large pine tree which works out well as the sun angle hits it all through the winter months but it is shaded in the summertime, one way to maximize productive space in a yard.
Here is the most important part of the garden, the compost bins. The half that is "cooking" now is growing some healthy looking volunteer vines. Though it is clay, the soil here is mineral-rich from the natural process of rock wearing down over time. It needs organic matter, however. We don't have a garbage disposal and don't need one as we compost all waste coming out of the kitchen.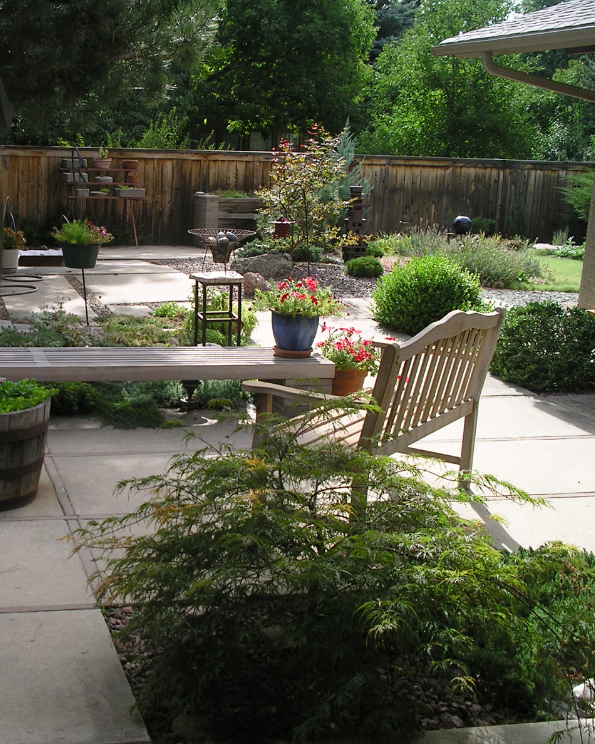 A view out the back door. The Acer Palmatum, or Japanese maple, is my favorite plant in the whole world. The buffalo grass patch is in the background on the right.
2 Responses to "The Home Garden"