Future Challenges of Irrigation and Water Use in U.S. Agriculture
Note that I took the above photo of ditch irrigation
at a Boulder County Open Space Farm Tour in July 2012.
This month the USDA came out with a report titled, "Water Conservation in Irrigated Agriculture: Trends and Challenges in the Face of Emerging Demands" by Glenn D. Schaible and Marcel P. Aillery.
What Did the Study Find?
• Based on the 2007 Census of Agriculture, irrigated farms accounted for roughly 40 percent ($118.5 billion) of the value of U.S. agricultural production; nationwide, the average value of production for an irrigated farm was more than three times the average value for a dryland farm.

• Irrigated farms accounted for 54.5 percent ($78.3 billion) of the value of all crop products sold and contributed to the farm value of livestock and poultry production through animal forage and feed production. Livestock/poultry products accounted for roughly a third of market sales for irrigated farms and 63 percent for nonirrigated (dryland) farms.

• Nearly 57 million acres were irrigated across the United States in 2007, or 7.5 percent of all cropland and pastureland. Roughly threequarters of U.S. irrigated agriculture occurred in the 17 Western States, although irrigation has been expanding in the more humid Eastern States.

• Irrigated agriculture across the Western States applied 74 million acre-feet (24 trillion gallons) of water for crop production, with 52 percent originating from surfacewater sources and 48 percent pumped from wells that draw from local and regional aquifers.

• Energy-sector growth is expected to significantly increase water demands for an expanding biofuels sector, utility-scale development of solar power, innovation in thermoelectric generating capacity, and commercial oil-shale and deep shale natural gas development.

• At least half of irrigated cropland acreage across the United States is still irrigated with less efficient, traditional irrigation application systems.

• Irrigators continue to make significant investments in new and improved irrigation systems. Approximately $2.15 billion was invested in irrigation systems in 2008, a 92-percent increase over investments for 2003.

• Competing demands for U.S. water resources will continue to grow, while the potential for new, large-scale water-supply projects is fairly limited. Agriculture accounts for more than 80 percent of U.S. consumptive water use and, with the lowest marginal value of water among competing out-of-stream uses, will be the likely water source to meet future water demands.
Next, are some graphics from the report: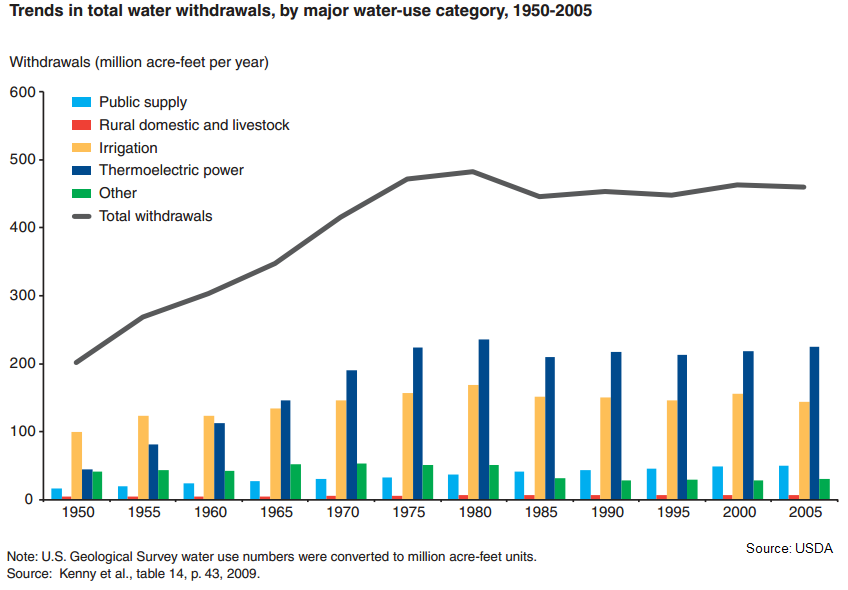 Water withdrawals for irrigated agriculture and the thermoelectric power sector are the two highest sources of water demand and have also increased the most since 1950. Thermoelectric power needs accounted for 49 percent of total U.S. withdrawals in 2005 and increased 400 percent between 1950 and 2005. Nearly all of that demand, however, returns to its source of origin, where the water can be reused.
Irrigated agriculture accounted for 31 percent of the nation's total water demand in 2005 and increased 43 percent since 1950. Irrigated agriculture accounted for 58 percent of surface water withdrawals and 79 percent of groundwater withdrawals.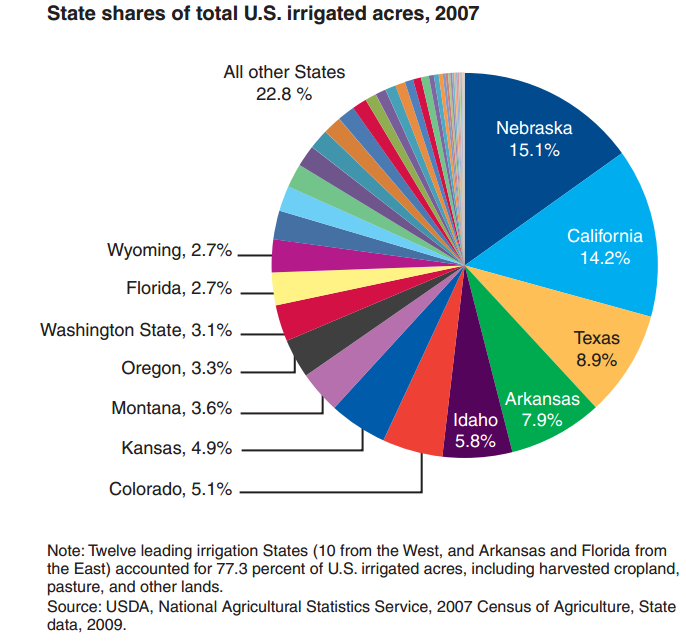 For 2007, 12 leading irrigation States accounted for 77.3 percent of all irrigated acres, including harvested cropland, pasture, and other lands. Nebraska, California, and Texas led the way. Of the Eastern states, Arkansas and Florida were among the top 12 irrigation States.
Vegetable, orchard, and rice crops were the food categories requiring the greatest share of irrigation in 2007. Irrigation was applied to 70 percent of vegetable acres, 79 percent of orchards, 100 percent of rice, and 39 percent of cotton.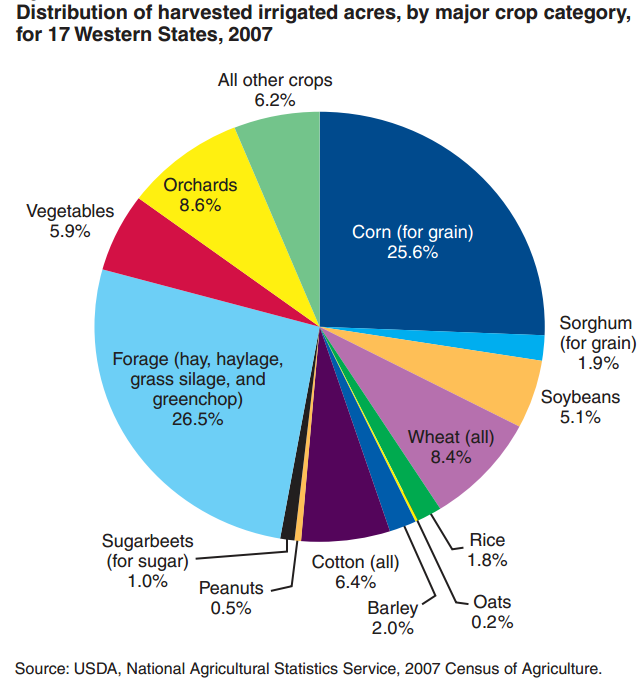 The above graphic illustrates the 2007 use of irrigation in the West by crop category. Corn for grain and forage crops (hay, haylage, grass silage, and greenchop) accounted for about 52 percent of all harvested irrigated crop acres across the 17 Western States.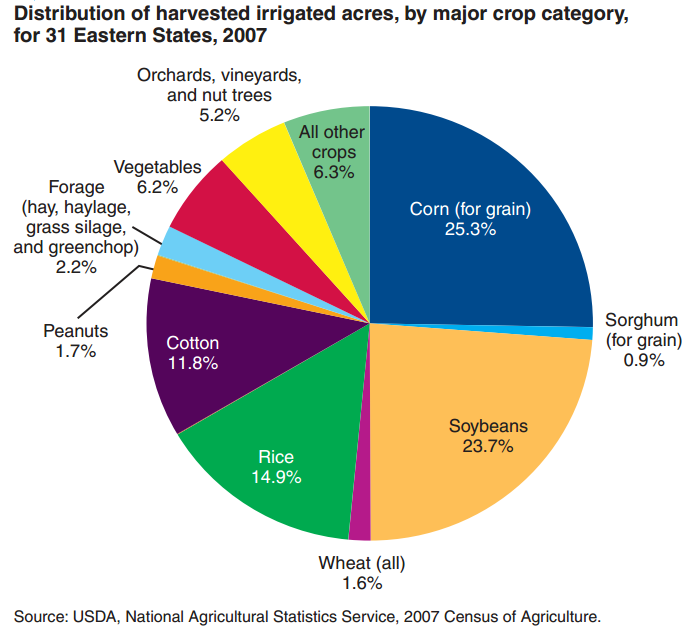 In the 31 Eastern States, in 2007, corn for grain, soybeans, rice, and cotton accounted for 76 percent of all harvested irrigated crop acres.
Next, I've done a little digging to summarize a few important categories included in the report….
NEBRASKA
With its gift of Ogallala Aquifer water, Nebraska is the nation's leading state for irrigation. In 2007, it accounted for 15.1 percent of all irrigated acres, at 8.6 million. In 2008, the NRC estimated that corn for ethanol in Nebraska required 780 gallons of freshwater withdrawal per gallon of ethanol. This report states that between 2002 and 2007, Nebraska increased its agricultural water use by a million acres.
BIOFUELS
Biofuel development will likely increase water demand for agriculture for both processing and feedstock production. Biofuel plant processing water requirements can have large regional impacts on water resources. Rising prices for corn and soybeans due to biofuels demand stimulates demand for irrigation of these crops. According to one study, consumptive water use for ethanol production in the U.S. increased 246 percent between 2005 and 2008 and has particularly gone up in the Ogallala Aquifer region. The GAO estimates the average water consumed in corn ethanol production at 324 gallons of water per gallon of ethanol, 88 percent from groundwater. Since corn ethanol production has led to soybean acres replaced with corn acres, and water consumption of corn is greater than soybeans, this has added to groundwater withdrawls exceeding natural recharge.
CLIMATE CHANGE
Climate change impacts are expected to alter both water supplies and water demands. Warming temperatures, changing precipitation patterns, and reduced snowpack are expected to significantly reduce late spring/summer streamflows, which have been available in the past to replenish reservoir storage to meet peak irrigation water demands, and groundwater recharge across much of the West. In addition, higher temperatures are expected to increase crop-water demands via reduced crop ET efficiency.
These impacts will especially challenge the Western states which account for nearly three-quarters of U.S. irrigated agriculture. In the West, annual precipitation is projected to decline, particularly in the warmer summer months. A 2007 IPCC report revealed that the April 1 snow-water equivalent snow cover "has declined 15 to 30 percent since 1950 in the western mountains of North America" and streamflow over the last century has "decreased by about 2 percent per decade" in the Central Rocky Mountain region.
It is expected that warming temperatures and precipitation changes will reduce streamflow in the Upper Colorado River Basin. One study predicts that the decline could be 8-11 percent by the end of the 21st century with the possibility of a 25 percent decline by 2030, and 45 percent by 2060.
Large regional variations in streamflow changes are expected across the U.S. Runoff may increase across the Eastern U.S., show little change in the center, and substantially decrease in the Western interior. Runoff projections for the Pacific Northwest and California will be reduced, but not as much as the western interior. The Columbia River Basin may experience wetter conditions, but with warmer temperatures.
The recharging of aquifers is expected to decrease.
Temperature increases in the Southwest will increase irrigation demands in the region.
Irrigated agriculture will need to adapt to climate challenges by adoption of more efficient irrigation technologies, improved water management practices, and cropland allocation shifts. "Practices that enhance gravity-flow systems through improved distributional uniformity of field-water advance include field laser leveling, gated pipe systems with surge flow/cablegation, shortened furrow lengths, alternate-row irrigations, reduced irrigation set times, and polyacrylamide (PAM) applications (a water-soluble soil amendment that stabilizes soil and waterborne sediment). Tailwater pits may also be used to capture and reuse irrigation drainage from the field. Pressurized system enhancements, including low energy precision application/drop-tube systems, micro-irrigation systems, and automated nozzle control systems, improve the precision of applied water while reducing energy requirements for pressurization."
ENERGY
The energy sector is expected to significantly increase water demands for expanding biofuels sector, utility-scale development of solar power, innovation in thermoelectric generating capacity, commercial oil-shale industry in the Upper Colorado River Basin, and deep shale natural gas development in the Eastern and Central United States. Especially in the Western states where surface-water systems are already over-appropriated and groundwater aquifer levels are generally declining, energy-related water demand could win out to irrigated agriculture. For most new energy development, water quality and environmental impacts are potentially the more significant policy concern.
MY CONCLUSION — REGARDING FUTURE WATER CONSTRAINTS IN AGRICULTURE IN THE U.S.
Because agriculture is by far the largest consumptive consumer of water in the U.S., as supplies become constrained due to competition from future need demands and climate change, expect arable land acreage to decrease in the U.S. over time. This issue will magnify the food versus fuel debate. Reclaiming acreage for crops in the Eastern U.S. where natural rainfall is more adequate may also happen and with that will come more eating according to season. Irrigation practices will become much more efficient. Also, we might expect a return to more grasslands or hardy range lands for grazing on drought-stressed properties instead of crop production, and on those lands the more water hardy breeds of livestock will be raised. Crops such as sorghum, or GMO-drought varieties, which are less thirsty will gain acreage share. The aquifers will be pumped without abandon as long as such pumping is profitable. Many forms of conservation, generously irrigated lawns, golf courses, and pools, along with opportunities to use grey-water instead of potable water will afford some resilience in the Southwest, and elsewhere. Note that this is a very long-term view.
3 Responses to "Future Challenges of Irrigation and Water Use in U.S. Agriculture"