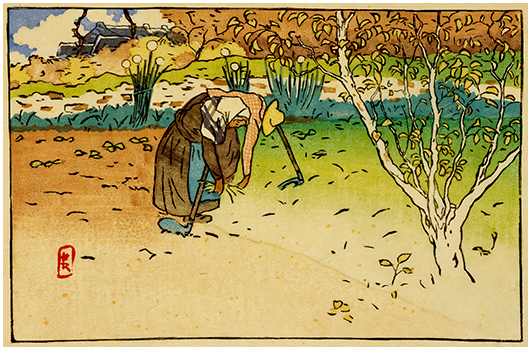 Henri Rivière's 'Vegetable Garden at Ville-Hue (Saint-Briac)' ~ Smart Museum of Art, Chicago
Today is "World Food Day" which is the anniversary of the day that the United Nation's Food and Agricultural Organization (FAO) was founded. Lester Brown must be astonished that there are 130 million fewer hungry people now than there were 20 years ago even though we have over 1.5 billion more people to feed. But, undaunted, this week he continues to warn that we will soon be running out of food. One of these years he'll be right, but I doubt that it'll be this next year. His logic makes sense and grabs headlines around the world's leading news publications except he lacks one element in his analysis and that is the economics of supply and demand for food production. Food commodity prices are high right now and the whole world is responding, anxious to cash in on some profits. The BRICS nations continue to increase their production and this year a good example is that Brazil is set to overcome the U.S. for the first time as the world's leading soybean producer. Another, is that China's grain output grew by 4.5 percent last year — according to their official data.
On a personal note, several times when I've been outdoors in recent days I've heard the magical sound of the Sandhill Cranes migrating overhead. How nice to have one thing that I can experience and enjoy that has stayed the same for millions of years and that also provides a common thread through my life in this rapidly changing world.
Kay
Here are my chosen news links for this week….
● The Annual Food Prize meeting is being held this week in DesMoines. some are concerned that too much focus is being placed on growing food rather than boosting infrastructure such as roads and irrigation and educating small farmers. "You can't solve this problem from Iowa. There is no way Iowa farmers, as productive as they can be, will ever make sure that poor people in other countries are going to get enough food." (Desmoinesregister) K.M. Note: I really appreciated reading that quote, because feeding the world is commonly used as a feel-good advertisement for overproduction, which leads to low prices, and that in turn leads to biofuels lobbying and politics.
● EU leaders are under pressure from farmers and industry to ease the proposed 5 percent for biofuels limit and now it is expected that they'll cave to these special interests to a level closer to 8 percent. (Reuters)
● Supreme Court to Rule on Patents for Self-Replicating Products (Wired)
● Corn Belt Shifts North With Climate as Kansas Crop Dies (Bloomberg)
● Algae Are a Growing Part of San Diego's Appeal – San Diego has developed as the Mecca of algae technology development, as well as a model community for the cleantech movement. … Biofuels startups benefit greatly from being tightly clustered in San Diego. … The biofuel entrepreneurs agree they are not going to discover one magic fuel. "We already found it, and it's petroleum," says Mike Lewis. (Bloomberg)
● US corn ethanol fuels food crisis in developing countries (AlJazeera)
● How immigrants are reshaping Saskatchewan's farmland – These investors, who come mainly from China, South Korea and India, are buying up farmland, by the hectare, often in cash, and frequently becoming landlords to dozens of local farmers. (Globeandmail)
● Vote for the Dinner Party – Is this the year that the food movement finally enters politics? by Michael Pollan about GMO labeling. (NYT)
● Scientists, Journalists Challenge Claim That GM Crops Harm The Environment (Forbes) K.M. Note: B.P.A. gets a whole paragraph mention in this Forbes Op-Ed about the Benbrook pesticide study.
● Everyone Eats There – California's Central Valley is our greatest food resource. So why are we treating it so badly? by Mark Bittman (NYT)
● California copper thieves leave dire consequences for farmers – In the nation's No. 1 agriculture county, thieves are on track this year to steal more than $1 million worth of metal they'll sell for pennies on the dollar. The theft of pump wiring, irrigation pipes, equipment bearings and even tractor weights account for 85 percent of Fresno County's rural crime, the district attorney said. (huff-post)
● Brazil should produce a record soybean crop that may be up to 25 percent larger than last season's as farmers plant more in reaction to high prices caused by the drought in the United States. (Wisconsinagconnection)
● USDA Reports: Production and Prices Both Higher (Farmgate)
● Kazakhstan, Russia, Ukraine (KRU) and World Grain Markets (Farmdocdaily)
● The loss of agricultural land to urbanisation, combined with insufficient planning for food supply lines, places severe constraints on future food security for India's growing population, a UN assessment released Monday warned. India's urban population is about 30 percent and is expected to become 50 percent by 2045 … The rate of urban land expansion in India during the next 20 years is expected to be high, because the country is investing heavily in large scale infrastructure. (Yahoo)
● In India, over the past 50 years, egg and chicken meat production has been radically transformed from a largely backyard activity to a massive agro-industry. But around 140 to 200 million egg-laying hens suffer extreme confinement in barren, wire battery cages so restrictive they cannot even spread their wings. (Yahoo)
● UN meet in Rome to debate easing global food prices – FAO has warned that the knock-on effect is that the poorest countries in the world face a food import bill of $36.5 billion (28.2 billion euros). (theeconomictimes)
● Five dairy co-ops handled 49% of the milk (Brownfield)
● Cargill profits rebound sharply from decade low (Agrimoney)
● Farmland values jumped more than 16% in Ontario in the first half of this year, especially in southwest Ontario, according to Farm Credit Canada. (Ifpress)
● A new report says growers in sub-Saharan Africa may only be producing 10 to 25 percent of the wheat production possible in the region. … Africa is anticipated to spend about $12 billion to import 40 million tons of wheat in 2012. Farmers only produce about 44 percent of wheat consumer locally. (Agprofessional)
● Wal-Mart faces sourcing challenge in India (Reuters) K.M. Note: This article is quite interesting.
● Evolving Microbes Help Engineers Turn Bio-Oil Into Advanced Biofuels (Sciencedaily)
● Soybean Gene Find May Ward Off $1 Billion Pest (Bloomberg)
● Across much of Norway, the agricultural growing season could become up to two months longer due to climate change. (Phys.org)
● Ireland's crisis in farming is under severe strain for reasons including prices for fertilisers, animal feeds and fuel, low prices paid by retailers and bad weather. (BBC)
● Farmers in California's agricultural heartland say record-high gas and diesel prices are putting pressure on their bottom lines. (AP)
● Water Scarcity: The Real and Virtual Problems (ISN)
● American Cars and Trucks are Burning More Biofuels (Rewire)
● The Thai government plans to use an old airport warehouse and is desperately hunting for more storage space for a mountain of rice that has resulted from a subsidy scheme that won it votes but which is now sapping the treasury. (Reuters)
● Is Brazil the reservoir of future agricultural productive capacity? Mato Grosso's soybean planted area is set to rise for a fifth-consecutive year—by 8 percent to 12 percent to 67 million to 69 million acres this year and will be double-cropped with corn if weather allows for it. (PolicyPennings)

To us all of this suggests that, for the foreseeable future, the world's ability to grow crops, lead by Brazil, will continue to run ahead of population growth, putting a downward pressure on crop prices. As suggested by the word "continue," this is indeed what has been happening over the decades, with the major geographical contributions to agricultural productivity varying over time.
● Mish, on robotic farming (Mish's)
● Senegal Reality TV Show Features Prettiest Sheep (AP)
● Buffalo mozzarella from Italy is perhaps the most difficult cheese to replicate. Is the Silicon Valley consultant-turned-dairy-farmer named Craig Ramini in over his head? (NYT)
● To order the $100,000 heritage hen mini farm "Beau Coop" from Neiman Marcus, click here.
● BONUS: Israeli inventor of a cardboard bicycle expects it to revolutionize the developing world. …it should cost no more than about $20 to buy. The cost of materials used are estimated at $9 per unit. (The Telegraph)