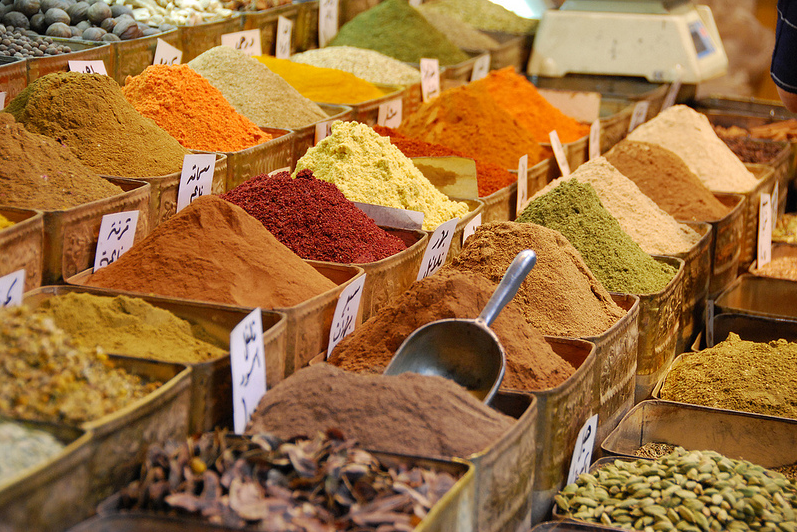 Spice souq, Damascus, Syria.
Photo credit: Flickr CC via james_gordon_losangeles
Here are my chosen news links for this week….
● How Fly Farming May Help More Fish Stay In The Sea (NPR) K.M. Note: If you ask me, this is quite a story… AgriProtein is a company started in 2009 which is producing protein meal from fly larvae for South African salmon and chicken farms, and is set to produce 100 tons of "fly meal" a day next year. And they can't keep up with demand.
● Chefs Put Down Roots – Restaurateurs expand into land, building country homes and growing gourmet ingredients—when crops cooperate (WSJ) K.M. Note: This WSJ article featuring chefs includes Boulder's own Eric Skokan. Previously, I've featured his Black Cat farm here, following a personal two hour tour. Eric is a guy who never sleeps, he wouldn't have time to.
● Russia opts for market forces over export ban (FT)
● Sustainable Innovation: The Ethanol Stove in Mozambique (NYT)
● FAO mourns 'tireless advocate for the world's hungry' – Former U.S. senator and ambassador to the UN food agencies George McGovern fought hunger at home and abroad (FAO)
● Rice Agriculture Accelerates Global Warming: More Greenhouse Gas Per Grain of Rice (Sciencedaily)
● Scientists link deep wells to deadly Spain quake (AP) K.M. Note: This earthquake story brought out the important history of drawing down the aquifers in this Mediterranean climate region for food production and greenhouse irrigation use.
● World Heritage Site in Syria gets destroyed, the Souk Madina, a vast market vending everything from meat to spices to fabric since medieval times. (Motherjones)
● The World Food Programme (WFP) said on Tuesday it plans to continue providing food for 1.5 million people in Syria until at least June next year (Reuters)
● Brazil: the world's 21st Century breadbasket (Reuters)
● Precision agriculture: Using predictive weather analytics to feed future generations (research.ibm)
● Brazil Starts Exporting Soy in Containers (DTN)
● Top Five Myths of Genetically Modified Seeds, Busted (NPR)
● In a world hungry for biofuels, food security must come first. Growing crops for food and fuel together can work but farmers and policymakers must prioritise hungry people and think local. by Olivier De Schutter (Guardian)
● Jim Lane lists the companies with big bucks investing in biofuels plants at the present time, including many cellulosic ventures. (Biofuesldigest)
● Gevo Inc. (GEVO), Syntroleum Corp. and Solazyme Inc. (SZYM) may be among a "small set" of biofuel producers vying for supply contracts from the U.S. Defense Department (Bloomberg)
● According to this Radio Iowa story, a Mason City biodiesel plant has shut down and a recent survey of biodiesel or ethanol plants in Iowa and nine other Midwestern states found two-thirds have cut back production or temporarily shut down in the past year. (Iowa Radio)
● A rush by producers to slaughter hogs due to high feed costs ballooned pork supplies in U.S. warehouses to a record level in September (Reuters)
● Big, Smart and Green: A Revolutionary Vision for Modern Farming (Wired) K.M. Note: This article, and Bittman's (below) write about the same study which made many headlines this week. While I'm glad the study was done, I don't find it revolutionary as the combining of the best industrial practices with older/organic practices has been voiced numerous times before. Many farmers today still practice crop rotation and try to use pesticides only as needed to save money. Whenever future smart farming practices are discussed, it always seems to come back to the past. I say the economics of it will force the invisible hand not too far down the road. But that's a whole 'nother article for a whole 'nother day that I hope to write sometime soon.
● A Simple Fix for Farming By Mark Bittman (NYT)
● Managing weeds on a Midwest farm. A profile of Ken Rider. (Rodale)
● Increasingly tight grain stocks along with production responses to price swings are set to create more volatility, grain market analysts warned at this week's HGCA Grain Market Outlook Conference. (farmers weekly uk)
● An Australian Newcastle University academic said subsidies could end up with input suppliers, landowners and bureaucracies and raise the cost of farming rather than improve its competitiveness and that support by way of health, education, roads, rail helps more. (weeklytimesnow)
● Commodity programs not needed if demand outpaces supply (Policy Pennings)
● USDA Scientists Collaborate with Global Researchers to Advance the Mapping of the Barley Genome – Nearly twice as large as the human or maize genomes, the barley genome was a challenge to sequence, due to its complexity and its large proportion of repetitive regions, which are difficult to piece together into a true linear order. (USDA)
● Lindsay Corporation's sales and profits grew again. (omaha)
● Caterpillar Inc, the world's largest maker of tractors and excavators, slashed its 2012 forecast for the second time this year and warned the global economy was slowing faster than it had expected. (Reuters)
● Four new Challenger tractors are more powerful than the previous Series and also are 6 to 8% more fuel-efficient, for a great blend of power and fuel economy. (Equities.com)
● ADM Targets GrainCorp to Tap Asia's Food Demand (Bloomberg)
● This article describes a water scandal that has gone on and continues to go on whereby the Cure Land Co. LLC has received $55 million in public money and special deals to irrigate with Ogallala aquifer water. (Akronnewsreporter)
● High energy costs are becoming burdensome for agribusinesses in Ontario (Better Farming)
● German greentech report highlights biomass, biofuels – non-food crops are cultivated in almost one-fifth of German fields, representing 2.1 million hectares (5.2 million acres). Most are used for the purposes of energy generation. … In addition, the report highlights bioplastics, noting that projections have shown that 70 percent of packaging is expected to be produced from bioplastic in the long term. (ethanolproducer)
● Iran revived sustainable farming after oil production was reduced to one third. They brought back native seeds of wheat and barley. They reintroduced native hardy breeds of cattle, sheep, and camels. (thehindu)
● Zimbabwe: Right Pricing of Inputs Key to Good Harvests It is no secret at all that most farmers have been failing to put their land to its full productive use largely because of the prohibitive cost of inputs, such as seed, fertiliser, chemicals and tillage. (Allafrica)
● Across Corn Belt, Farmland Prices Keep Soaring (NYT) K.M. Note: I think this article missed an important point, and that is why farmland prices are going up across the corn belt. Three reasons: policy, policy, policy.
● A new study in Nature links bumblebees to the pesticides neonicotinoid and pyrethroid (Guardian)
● Urban Agriculture in Cuba – Photo Essay – The International Food Policy Research Institute found that "Urban agriculture provides an estimated 15% of all food consumed in urban areas worldwide and is likely to double that share in the next couple of decades." (nacla.org)
● Farmers use sustainable farming for growing cotton (economictimes.indiatimes)
● Apple growers turn to cider (WSJ)
● ENERGY: Hofmeister: A Difficult Decade Ahead For Oil Prices and Supplies (theoildrum) K.M. Note: Robert Rapier interviews John Hofmeister, former President of Shell Oil. It makes for good scary Halloween-time reading. …and is a good lead-in to the next article.
● BONUS: Electric Bikes go on a roll in Rome (WSJ)